March 23, 2016
SaaS Marketing Automation
Targeted, personalized emails enhance the SaaS trial conversion rate in numerous ways:
Encouraging dropoffs to log back in
Reinforcing positive user behavior
Providing education, insight, and guidance to new or confused users
From the initial welcome to the expiry reminder, each email counts. I've compiled a set of winning email templates that can help you increase your SaaS convertion rate – try building your own to increase conversion and retention, and grow customer lifetime value.
1. Welcome emails templates that help users get started quickly
The best welcome emails set the tone for your SaaS trial and keep users coming back for more. According to 500 Startups partner Susan Su, "you should be aiming for a 60%+ open rate on this email – if users don't open your welcome email, you've basically lost them." Your welcome email is that important.
Squarespace, the popular website builder, welcomes free trialists with a direct, human-centric HTML email.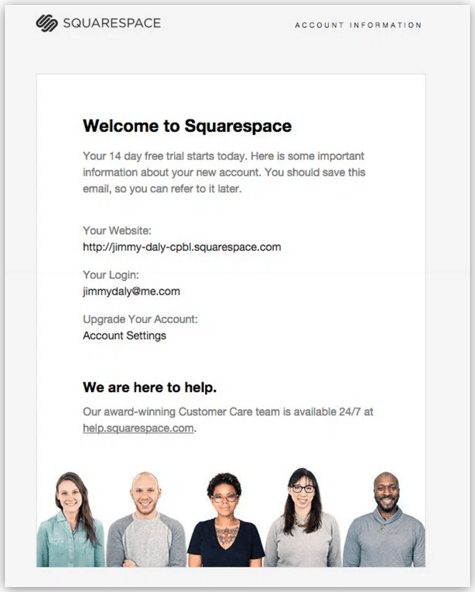 Given their semi-technical / technical audience, the content emphasizes clarity and wastes no verbiage – "here's your website, login information, and we're to help if you need it." Note the use of the "Account Information" header in the upper right for additional clarity, and the bold header styles for the two relevant headlines – "Welcome" and "Help". The email builds trust with the photo-realistic image of their customer care team, while also reinforcing Squarespace's clean, minimalist branding.
Goodreads, an online space for book lovers, takes a prescriptive approach to enabling new users by outlining a 1-2-3 step process for getting started.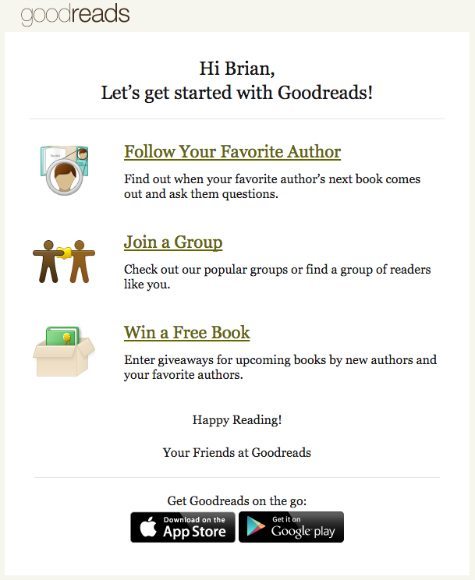 Goodreads lays out three action items: follow a favorite author, join a group, and enter to win a free book. All three recommendations help readers get plugged into the community quickly. This improves readers' lives, accomplishes Goodreads' business goals, and is a proven technique to drive enablement and conversion.
2. Usage tips to encourage action
Sending usage "nudges" on the second or third day of the trial is a powerful way to influence users and overcome early friction. Your goal is to provide a compelling reason to take action in your product, so that trialists recognize value immediately and overcome common hurdles. Here's a usage tips email we send on the second day of our free trial at Autopilot: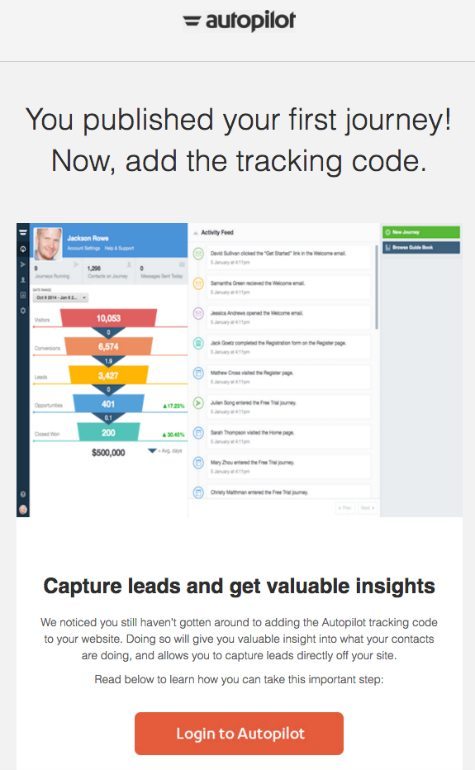 The email is sent in response to user behavior. Autopilot checks what a user has and has not accomplished (e.g. published their first journey, added a tracking code), then sends a personalized nudge to take the next step. The messaging communicates the specific action the user needs to take, why it's important, and includes a call to action back into the product. It's an automated and behavior-based way to see activation rates lift off.
Paperless Post also nails the usage tips approach by encouraging new users to send a card to their mom. Aww.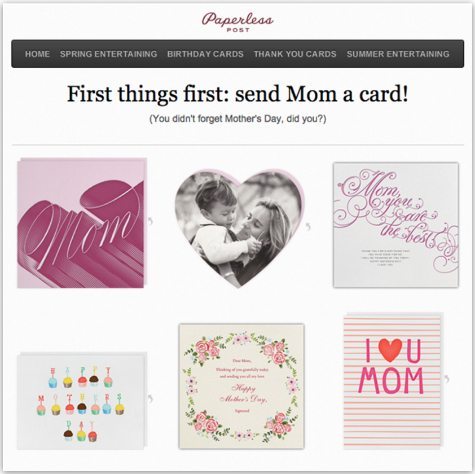 The company wants users to experience the satisfaction of sending a card to a loved one, which increases the likelihood users will return to send other birthday cards, party invitations, and more. I know this from experience – I personally used the service for my wedding, and it saved me a ton of hassle from mailing paper cards all around the world.
3. In-app messages sent at just the right time
Emails aren't the only way to connect with users during a free trial. Sending Headsup in-app messages helps you cut through inbox noise and reach people while they're using your product.
Common use cases for in-app messages include:
Inviting users to webinars
Linking to key content
Subscribing for updates
Getting product feedback
Instapage uses Headsup (Autopilot's in-app messaging feature) to flatter new users with a personal message from the founder/CEO, inviting them to attend to a group demo.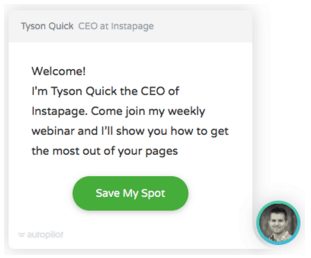 Since launching this in-app message, the company has seen a 30% increase in attendance rate for its weekly webinar. Remarkable.
4. The mid-trial account usage review
This email gives users a personalized account review, and is a nice way to help users understand the scope of the complete product, while tactfully encouraging product use. Aside from the welcome and the day two usage-targeted emails, this tends to be the highest performing SaaS trial email. Zendesk sends a top-notch account usage review.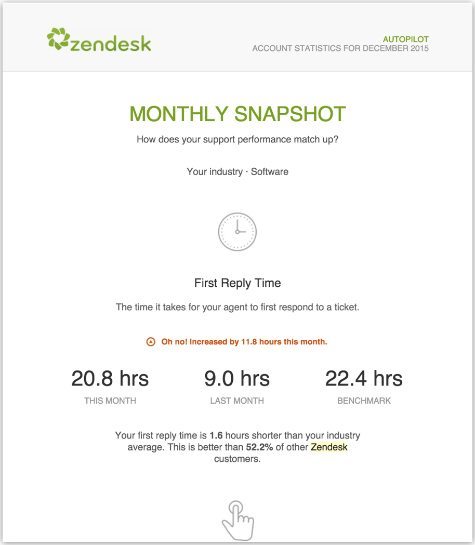 The company goes beyond simply outlining feature usage (e.g. Salesforce's Monthly Account Review email) by jumping to the trialist's key results, in this case First Reply Time. It then takes this a step further by benchmarking trialist or customer performance against other Zendesk customers in comparable industries or company sizes.
These insights light a fire for slow starters to hurry up and get set up, while simultaneously motivating top performers to do better – pretty smart, huh?
5. Expiry warnings to remind users to buy
Almost everyone in SaaS has seen the expiry warning email. It has a twofold goal; remind motivated users to buy so they don't experience service interruptions, and bump up the priority for users still on the fence about purchasing. Dropbox's expiry warning is a great example.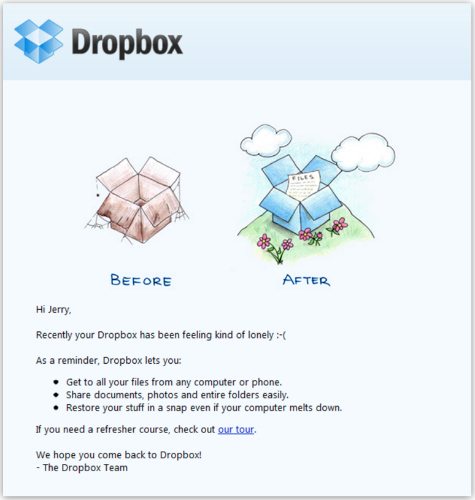 Dropbox uses its iconic hand drawn images to capture attention, simplifies product benefits with three bullet points, and includes a single call to action to take the next step. The touch of humor – "Recently your Dropbox has been feeling kind of lonely" – communicates Dropbox is a company made up of real people, and is not just another anonymous tech giant.
6. Feedback surveys if people don't convert
Send a feedback survey to users who don't buy after the trial is over. It's an automated way to learn how to improve, and nudges still-interested users to re-engage with your product. Here's the feedback survey email we send at the end of our trial experience at Autopilot: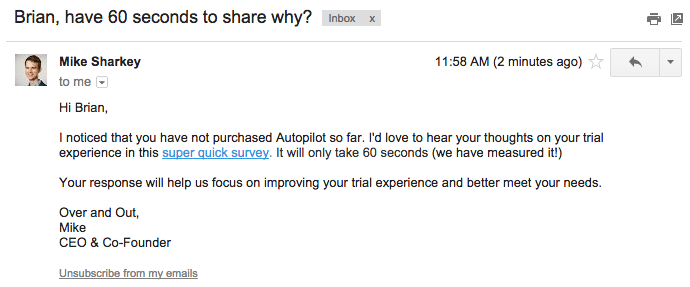 The email is text-based, super simple, and sent from our CEO. It links to this feedback survey we made using SurveyMonkey: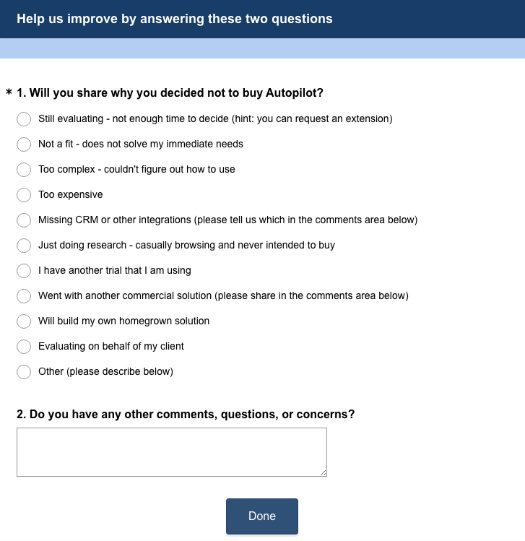 You might learn something new about your users and product. For example, we found that 27% of our expired trialists don't buy because they're still evaluating their options. Us asking both nudges them back into the product and gives us insight into conversion barriers. It's a win-win.