August 24, 2016
SaaS Metrics
Amazingly detailed dashboards are only a simple google search away, as many companies have constructed methods of tracking hundreds (if not thousands) of key metrics in-real time. However most of those, while impressive in scope, are useless in reality. Here's why, and also how to use a simplified metrics model like AARRR to help you make actionable decisions that boost your marketing results.
A field guide to startup metrics (aka AARRR)
Way back in 2007, Dave Mcclure was still a blogging-extraordinaire, complete with multicolored, profanity-laced posts that completely lacked any punctuation and capitalization. (E.E. Cummings would be proud.) At the time, he published a simple blog post outlining his view on startup metrics, affectionately nicknamed after every pirate's favorite phrase: AARRR. The framework is based on the most important startup metrics to track:
Acquisition: Where are users coming from?
Activation: Are users having a happy first-time experience?
Retention: Do users keep coming back?
Revenue: Are you making money?
Referral: Do users tell others?
For example, here's a basic dashboard of metrics that Dave recommended tracking. (I'm embedding these images via Flickr. That's how old this stuff is.)
The goal with a dashboard like this isn't to spend all day crunching numbers. But to gather quick feedback on how your marketing is working, pinpointing the reasons it isn't, and deciding how to quickly improve. Here's how the stages take place when you visualize the funnel.
Let's dive into each.
Acquisition
Acquisition is about getting potential users to your website. The key isn't necessarily a single channel, tip, or hack.

Instead, the focus should be on what potential customers struggle with, along with how and where they look for solutions. That tiny but crucial key informs the rest of your traffic-generating strategy. It helps you avoid doing inane things like reciprocal linking to boost SEO, and instead focuses your efforts on the big wins that actually bring people in the door.
Specifically, you want to keep an eye on which channels are generating the most high quality traffic. In other words, which of the following channels provides the most visitors who aren't bouncing (and leaving immediately)?
Search engine optimization
Search engine marketing
Public relations
Business development
Social
Blog referrals
Email
Affiliates
The Bullseye Framework is one technique to help you figure out how (and where) to prioritize your efforts.
For example, if your customers are intelligent and ambitious, proactively researching for solutions and tips online, then an SEO strategy targeting long-tail keyword phrases could be a big win for you.
That's what my agency did with Picmonic, and the results speak for themselves.

We created a massive list of keyword phrases based on the most common questions people had that related back to the core product, and then we wrote helpful content to address those problems. Simple strategy, big win. Moz's (relatively new) Keyword Explorer is an excellent tool for conducting keyword research and figuring out which phrases might be the best opportunity for you based on volume, competition, and intent. Here are even more keyword research tools to get the job done and help you get the ball rollin' on acquisition.
Activation
Your activation goal, in pirate metrics speak, is to make sure users have a happy first time visit and sign up for your product.

Focus on improving people's on-site experience to maximize these metrics. For example, dig into your website design to learn if it's leading people astray or creating a barrier to conversions. How can you tell? Use basic heat mapping (like CrazyEgg) or click-tracking (through Google Analytics) to see if page visitors are focusing their page interactions on your primary call to actions – or if they're scattered and haphazard like in the example below.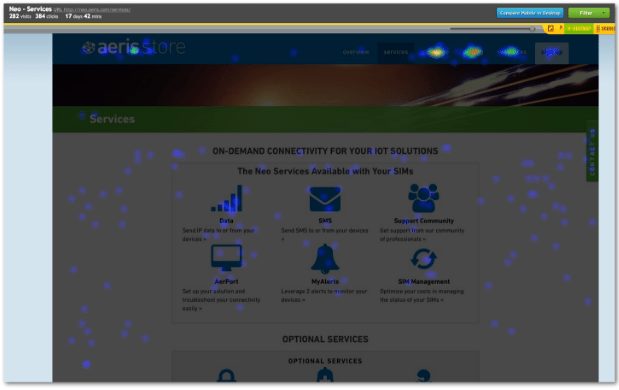 Another obvious tip is to see how much content people are consuming on a page. See all that navy blue in the image below?  Not a good sign, since it indicates the information 'below the fold' is either useless or erroneous.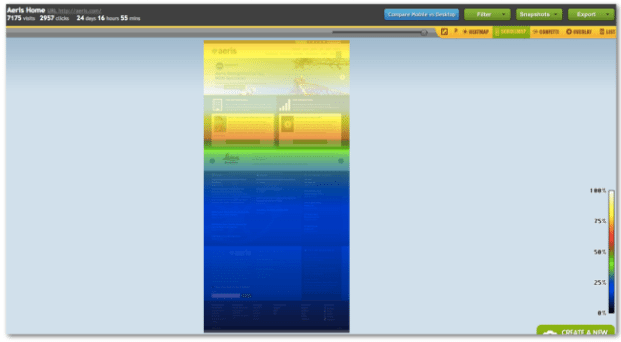 Try varying up your messaging, making call to actions more prominent, or speaking directly to the needs of your most valuable target persona. Whatever it takes to drive new signups and make first-time visitors happy.
Retention
Retention is about bringing people back to your product.

This simple action – making product use habitual in customers – has the ability to a) minimize churn, b) grow lifetime value, and c) generate referrals. Making product use a habit also helps seamlessly move customers from one stage of the funnel to the next by showing value, instead of just talking about it.

Marketing automation is a great way to put this on autopilot, especially since 67% of marketers claim it's "very effective."
You can easily send triggered emails that welcome users warmly, show them the next step to take, or provide a usage review that encourages action. Your confirmation pages and confirmation emails can also play a role in retention. They're not just placeholders, but one of the primary places to nudge users along.

In-app usage, events, or updates could also trigger new emails that hit people's inboxes every few days as well.
It sounds cliche, but Facebook is one of the best examples of this strategy. The company regularly sends email updates about who did what, which event is coming up, and event milestones like a friend anniversary.
Audible also uses key indicators to predict (and hopefully avoid) churn. For example, they can tell when someone has unused credits (i.e. they're not using the service they're paying for). This allows the company to quickly fire off promotional campaigns to incentivize the person to come back to the site and re-engage.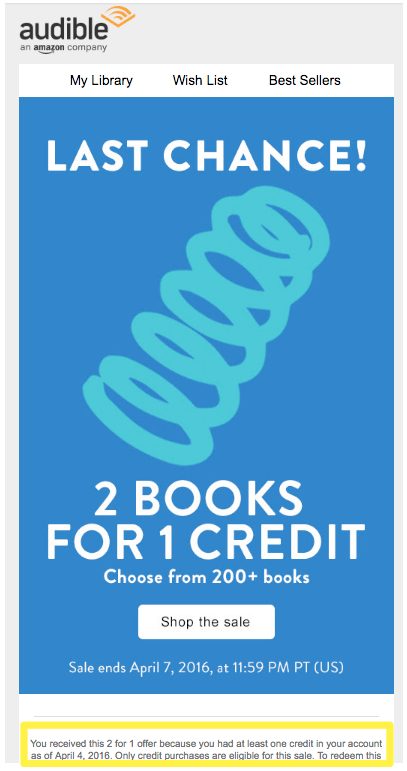 It's all about adopting a retention mindset that helps you design the next interaction or message that'll help users stick around.
Referral
Referrals are one of the most powerful forms of customer acquisition available.   But only when there's a systematic process planned out to incentivize and generate them on a consistent basis.
You could use the Net Promoter Score to gauge customer satisfaction or your viral coefficient to determine how much of your current audience can bring in new people.

One method to quickly boost the latter metric includes social contests that provide people with a compelling reason to promote you to their own networks (thereby driving up that viral loop and generating new referral traffic).
For example, my agency once ran a large promotion with a travel company to send four bloggers across a few different West Coast cities over the course of three weeks. While we had two of them hand picked, we ran a promotion for the other two, inviting all travel-related bloggers to send in video clips for entry. We used social metrics and engagement to select the finalists (meaning the winners were chosen based on the social interactions they were able to drive).
All of this stuff happened before the actual promotion, so it provided a simple way to generate buzz and create a captive audience once these people went on the tour. Along the journey, they continued to provide content updates including video clips of their adventures, like a hot air balloon ride in Phoenix.
This sustained effort delivered a significant increase in new likes (increasing visibility and brand awareness organically with zero advertising) and more importantly, post views and post feedback (increasing engagement with our core audience).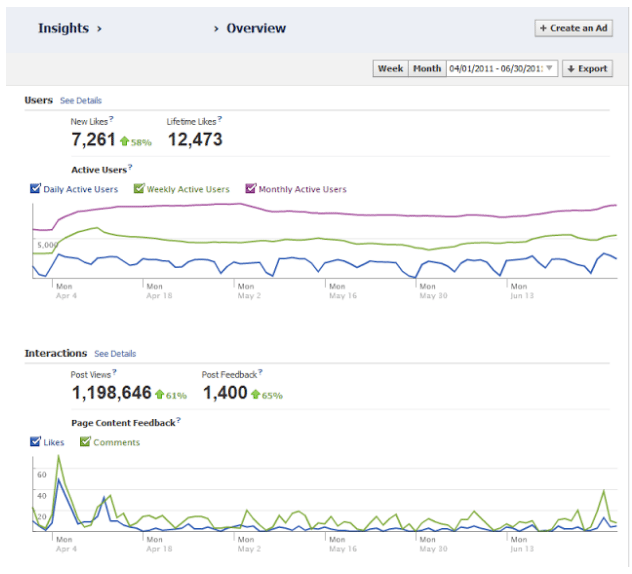 You could also look for opportunities to bake referrals directly into your product.
Webinar Jam includes a "Powered by WebinarJam" ribbon at the bottom of their opt-in forms.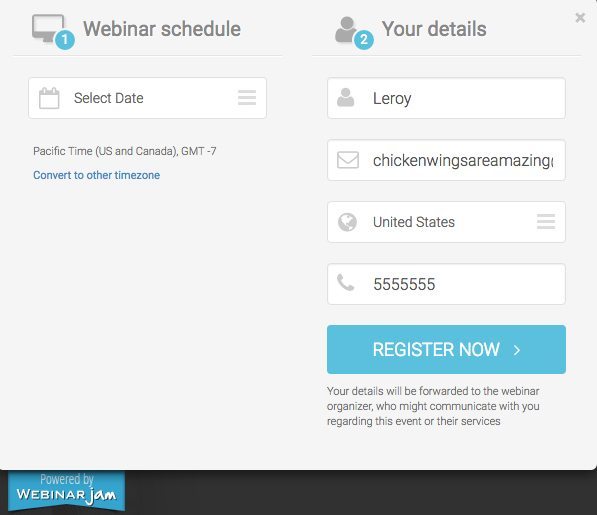 Every customer that uses the product is essentially a walking advertisement for the company. Weebly, a popular website builder, used this exact  organic growth strategy.
The takeaway here is to provide opportunities to refer your product throughout your user experience. Your promoters will take care of the rest.
Revenue
The revenue part, by this time, should be relatively straightforward. The beauty of the AARRR model is that each step builds on the last. If you're acquiring a healthy percentage of quality people coming to your site, activating a strong percentage of those, retaining the best users while also generating referrals consistently, revenue should simply be a lagging indicator.

Regardless, you still have to close the deal. This could take shape with a sales call, a soft sell email, or a drop dead simple payment process. Abandoned cart emails also come in handy here. Shopify wrote an in-depth post with some amazing examples, including this simple text-based email.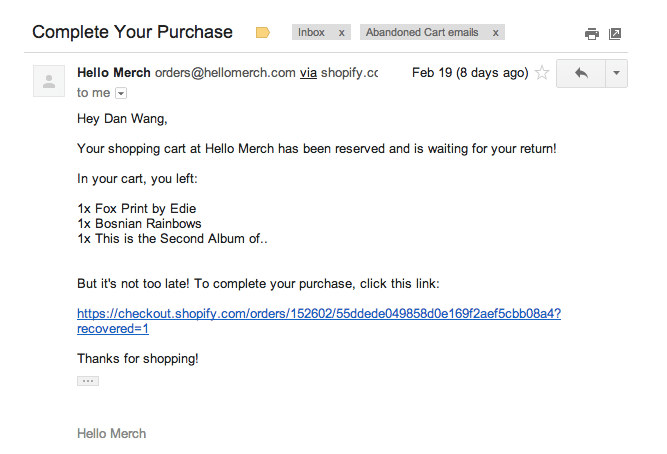 The email recaps what the shopper left, uses friendly copy, and provides a link to complete the purchase. Cart abandonment campaigns like this have the potential to double your revenue with a few sends, and is a simple way to win your first sale. From there, you can use Recurly's analytics dashboard to provide a detailed breakdown of how your customer acquisition is trending, whether churn is rising or falling, and how that affects your lifetime value and monthly recurring revenue.
You can then trigger these events back to marketing automation and in-app updates to make sure that your promotion and customer acquisition activities are being driven not by feelings and hunches, but actual data.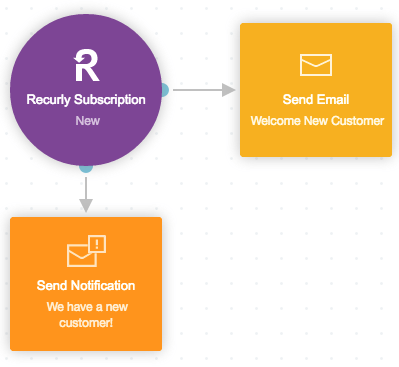 The key takeaway here is to continually ask, "What will help people cross the threshold from lead to customer?". That's how you increase your revenue metric.
Conclusion
Dashboards with hundreds of KPI's quickly becoming meaningless, because there's too much noise. Analytics isn't about raw data or reporting, but about insight informing action.
Instead of over-engineering something that only glorifies vanity metrics, double down on the essential drivers of success in your marketing funnel and obsess over their improvement above all else. If you're doing it right, the results should speak for themselves.