December 11, 2015
SaaS Onboarding Teardown: How This Healthcare Startup Increased Self-Service Success by 26%
Hint Health is a San Francisco-based SaaS app that manages billing, enrollments, and communications for medical professionals. Like most startups, Hint Health is laser-focused on creating a killer onboarding experience for new customers. The company recently launched a personalized, automated user onboarding journey with Autopilot. And it's working:
23% of new users who might have struggled before now receive proactive in-app messaging and email-based help

26% of slow-starting customers are now successfully onboarding themselves without needing to speak to customer support

There has been a 10% increase in sales engagements, which leads directly to revenue
Here is exactly what Hint Health did, and helpful takeaways for your own SaaS user onboarding.
Defined key milestones needed to onboard successfully
Hint Health nailed down the specific onboarding actions taken by their most successful customers. This includes in-app events like connecting Stripe and live events like a data consultation with one of the company's customer success managers. The objective when they started using Autopilot was to nudge users toward completing these onboarding steps. Here's the full breakdown of Hint Health's onboarding events: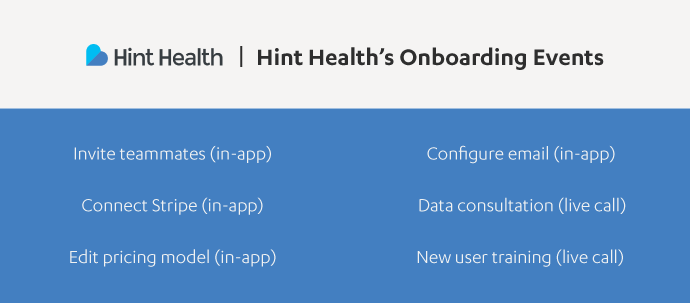 Before launching the new onboarding journey, many users only completed these actions after calling support. The trend drained resources and wasted the team's precious time. The company wanted to solve this problem by teaching users how to onboard themselves. **Takeaway: **Create a list of the steps users must take to succeed with your app. Without these in mind, you're just shooting at a target in the dark. Start with mining your analytics to look for trends. Also hop on the phone with your users. Ask them where their "aha" moments happened and design your onboarding experience around those milestones.
Engaged in the right context: in-app and email
To help customers onboard, the company reminds users to complete milestones using Headsup in-app messaging - which pops up while in they're in the product - and then only follows up with an email if they don't complete the milestone after the in-app message. Users who don't take action after either are escalated to the customer success team for one-on-one help to take the next step. Here's one of the company's in-app messages prompting users to invite team members to their account: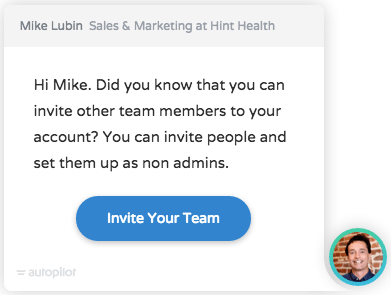 And here's the follow up email users receive if they don't any invite team members: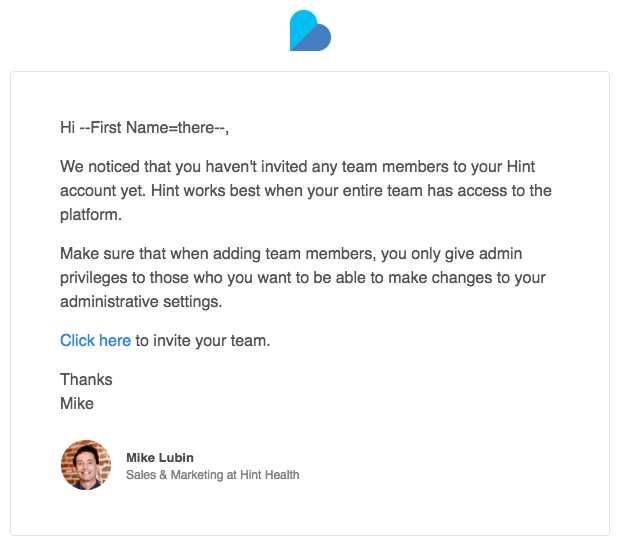 Hint Health's CEO, Zak Holdsworth, led with in-app messages to reduce email sends. "Email is like a sledgehammer, it's distracting," he says. "But in-app messages are a precision tool to connect with users in context when they're using our product." **Takeaway: **Set up multi-channel touchpoints to encourage users to complete milestones in your SaaS app. Think outside the email box – connecting with users in-app could be the secret sauce to nailing your user onboarding journey.
Minimized touchpoints based on product usage
The company set up a behavioral condition so if a user completes a milestone, it advances them to the next without sending messages for previous milestones. Here's what this looks like in Autopilot: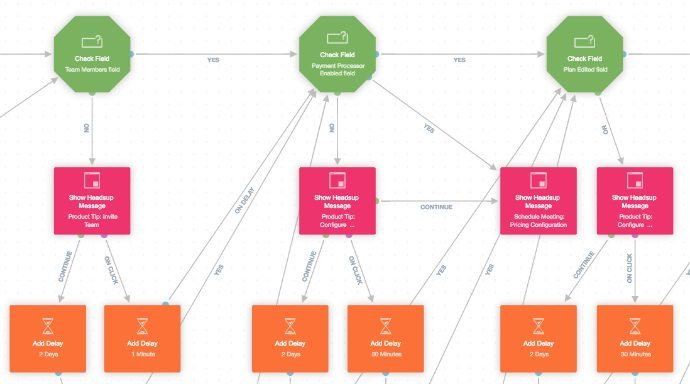 The "Check Field" condition (the green stop sign) determines if a user has invited teammates, connected Stripe, edited their pricing model, and so on. When they don't, then the in-app message fires encouraging them to take action. Users only see relevant messaging for their stage in the onboarding process. Power users are never annoyed with messages prompting them to complete what they've already done, and slow-starters receive the help they need. **Takeaway: **Add a behavior element to your user onboarding. If you do, your nudges become more relevant and personalized than if you only used time-based messaging.
Built a marketing stack to be personal at scale
Hint Health has built a marketing tech stack capable of delivering this personalized onboarding experience. The company uses SalesforceIQ to manage relationships, Stripe to handle billing, UserVoice to run customer support and Autopilot to automate customer journey marketing.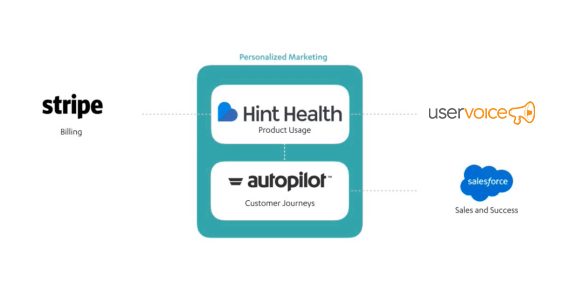 The company also uses Autopilot's API to pass 20+ data points that are used to update field values, then trigger and fire automated journeys. They went the API route to improve reliability, since this affects their mission-critical experiences like user onboarding. **Takeaway: **Choose an unbundled marketing tech stack that centralizes and organizes your customer record in a single location that incorporates actions, events, and behaviors across multiple services. With this setup, you can send highly personalized messages to your users.
What's next for Hint Health?
With a personalized onboarding experience now under their belt, Hint Health plans to focus on generating demand, driving top of funnel growth, and nurturing existing leads. The company is mapping journeys throughout every stage of the customer lifecycle, following Zak's mantra of "Nail it, then scale it." What are your biggest takeaways from Hint Health's approach? Any tips you'd like to include from your onboarding strategy? Let us know in the comments.