May 12, 2015
Small Business Content Strategy
Research shows that small businesses with blogs generate 126% more leads. The hard part is actually doing the work of creating great content over time. Sadly, remarkable posts don't just fall from the sky. According to the New York Times, 95 percent of blogs are abandoned after the initial thrill is gone, left to die away in online obscurity. But that doesn't have to be you. For the small business owner, your schedule is already packed - managing employees, dealing with vendors, landing the next client, making payroll, and living the dream of working for yourself. In the midst of all the craziness, blogging is doable. These five steps to blogging cover the what, how and when of blogging, but first, let's start with why…
Why blogging
The point of blogging is not blogging. It is to grow your business by:
Increasing awareness for your brand online
Driving new leads to your website
Establishing credibility as a domain expert
Educating potential customers who want to learn more (and will buy later)
Creating a content repository that can be repurposed in nurture emails, social posts, sales engagements, employee training, newsletters, and more
Great blog posts can fuel the growth of an email list and be repurposed to nurture strangers to customers. Often times, your blog is the first touchpoint in a customer's journey as they get to know your brand. Contrary to more interruptive forms of marketing like commercials and popup ads we've all grown to hate, research shows that 81% of U.S. online consumers trust information and advice from blogs. Marketer Scott Stratten says it this way… "I call it 'pull and stay' marketing instead of 'push and pray' marketing. 'Push and pray' marketing is the old-fashioned mindset of pushing messages and praying that somebody's going to buy from you eventually. 'Pull and stay is when you pull people toward you and stay in front on them, whether it's via a newsletter, blog, or Twitter."
1. This all sounds great, but what do I write about?
As an expert in your business, your hard-earned and on-the-job learnings represent a treasure trove of valuable insights for potential readers. Your blog is an opportunity for you to teach. Your content sweet spot lies in the intersection between your expertise and your audience's interests.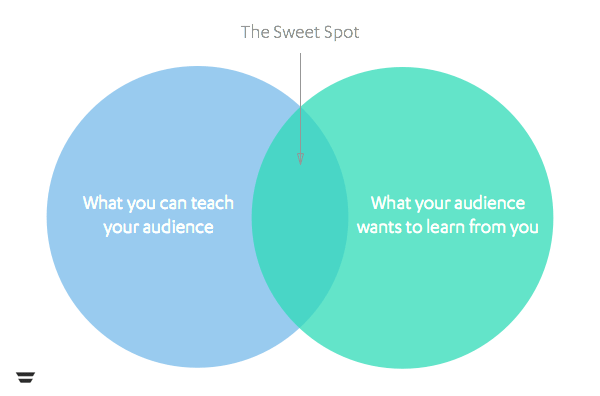 Take Wine Library TV for example, where outspoken Gary Vaynerchuk creates videos about wine with titles like "What Wine Pairs with Cereal?" and "How to Get Your Wine Palate Trained." These educational videos don't outright pitch "Hey buy this wine!!!" Instead, they focus on teaching. Businesses have a tendency to write about their new products, the big sales that are happening, and other me-focused posts. Avoid this temptation to sell, sell, sell. Focus on creating posts that are informative, educational, and even inspirational. Non-branded organic content is what attracts the Google searches and the general marketplace.
2. How to source blog post ideas
Brainstorming post ideas off the top of your head is effective to a point. However, there are a number of other ways to get into your customer's shoes to generate blog post ideas:
Send a survey. By asking open-ended questions to your customers like "What interests you about insert your industry here?" or "What would you like to learn about insert your expertise here?" SurveyMonkey would be perfect for this scenario.
Ask customers for a 15-minute phone interviews. Hopping on the phone with customers for a quick call can provide tons of insight that gets lost in written communication.
Document the autosuggest results in Google. Open an "incognito window" in your web browser and search for keywords of topics you'd like to teach about. See what phrases come up that you could spin for blog post titles.
Read Amazon book reviews. Digest reviews of books in your space and look for what people learned or anything they were still curious about.
Search key phrases in Google's Keyword Planner. This tool gives you the volume of searches for keywords and phrases. As an example, we added a post about "user onboarding" to our roadmap because a) it's in our wheelhouse of expertise and b) we found out recently that it gets 1,000 searches a month!
Your goal is to write content optimized for what people are already searching for. Or as Robert Collier would say, to "enter the conversation already taking place in the customer's mind."
3. Writing a winning blog title
The single most important line of your post is your headline. Buffer, a social media scheduling tool, recommends these 8 winning headline strategies:
Surprise - "You've won a million dollars! Just kidding…"
Questions - "Are you missing out on doubling your leads?"
Curiosity - "Unknown facts about wine"
Negatives - "Stop making these five blogging mistakes"
How To - "How to write high-traffic blog posts"
Numbers - "5 tips to double your newsletter open rates"
Audience Referencing - "A simple blogging system for small business owners" (sound familiar?)
Specificity - "Take a tour of this Napa Valley winery" If that's not enough, pull from these 100+ blog title templates or create your own from scratch.
4. Start with one top-notch post a week
In the 24 months from the beginning of 2013 to the end of 2014 alone, the output of content per brand has increased 78% on average. Translation: there's a lot of noise on the internet. How do you stand out? Copyblogger said it best, "Writing one epic post per week is a better long-term strategy than writing mediocre content every day." In terms of actual word count, our team aims for anywhere between 800-1200 words, with occasional thought leadership posts backed by significant research of up to 1500 words. Blogpros suggests that "the perfect blog post" averages 1,149 words. Try different lengths for your audience and see what posts drive the most traffic.
5. Choose a results or schedule-based writing system
A results-oriented posting system is saying "I'm going to publish one blog post a week no matter what" with no schedule attached to it. This works well for people who hate scheduling and love working on the fly, it just depends on the type of business owner you are! A schedule-based posting system says "I'm going to block out these chunks of time to blog and post what I post." Here's an example schedule for one post a week: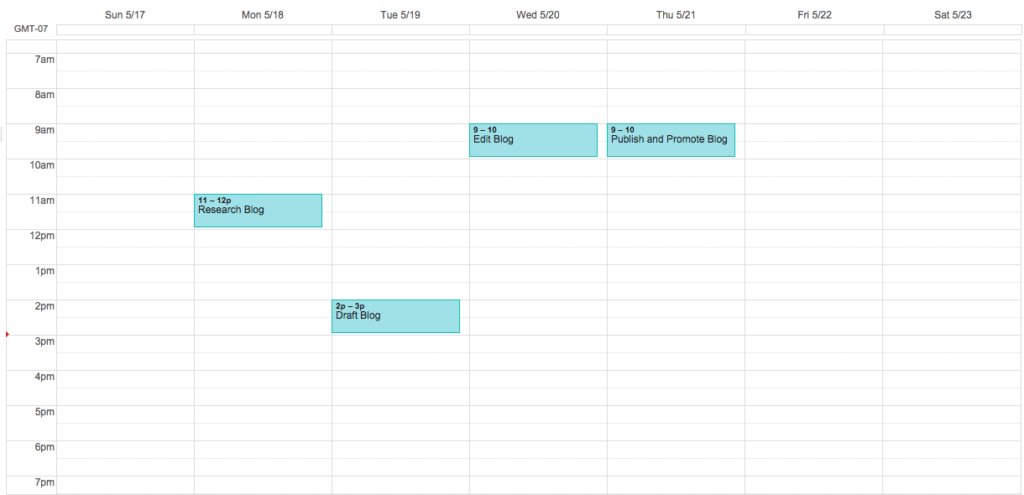 The work of researching, drafting, editing, publishing, and promoting is spread out over four hour and four days. Don't have the luxury of extra time or a marketing person with writing chops? Consider hiring a writer through your existing network or a service like Scripted to create posts for you.
You can blog
To recap…
Focus on the sweet spot of your expertise and your audience's curiosity
Source content ideas where customers are sharing their pain points and desires
Write winning subject lines with strategies like surprise and questions
Start with one top-notch post a week
Choose a results or scheduled-based writing system - whatever works for you.
Have some fun with blogging - and build your community
Blogging can seem like a burden, especially with your myriad of other commitments as a small business owner. But you can do it. You have the expertise, insight, and now the steps to make it happen. What else would you add to these blogging steps? How has blogging been successful for your business? Let us know in the comments.