November 8, 2017
When we launched Autopilot in 2015 we introduced a shape that allowed customers to send SMS to anyone without writing a single line of code.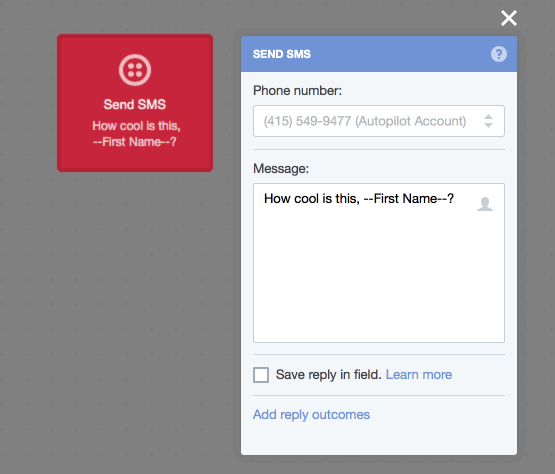 By simply dragging and dropping, you could send personalized text messages to millions of people as easily as sending an email. No developer required. Over the past two years we've seen thousands of customers adopt SMS into their marketing and as usage grew we saw many new opportunities of how we could allow customers to use SMS in more meaningful ways. Today, we're excited to announce an entirely new SMS integration with Twilio. One that will empower you to automate SMS in ways you never even thought were possible—all within Autopilot's simple and visual journey canvas and without needing a developer.
What can the new Twilio + Autopilot integration do?
Autopilot's new Twilio integration can:
Receive SMS messages to start a journey based on a keyword. The SMS Received Trigger can add a contact to a journey when they text a keyword (like "hello", "subscribe", or "join") to a number or messaging service.
Change the conversation or take actions based on replies. Ask people to reply with yes, no, maybe, cool, hey, or whatever word you'd like, and create follow up paths based on their answers. Add contacts to a list, update a lead score, send a follow up email, notify your team on Slack, and more.
Capture replies into your marketing database. Ask your customers for feedback or to share additional information like their email address, and then save those replies into your marketing database. In seconds you'll be able to capture information from a crowd.
Try it for yourself by texting "Hello" to (415) 877-9922.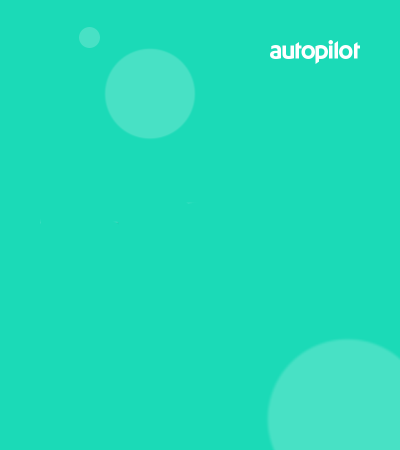 How Seedsheet uses the Twilio & Autopilot integration
Seedsheet, as seen on ABC's Shark Tank, is on a mission to make it ridiculously easy to grow food.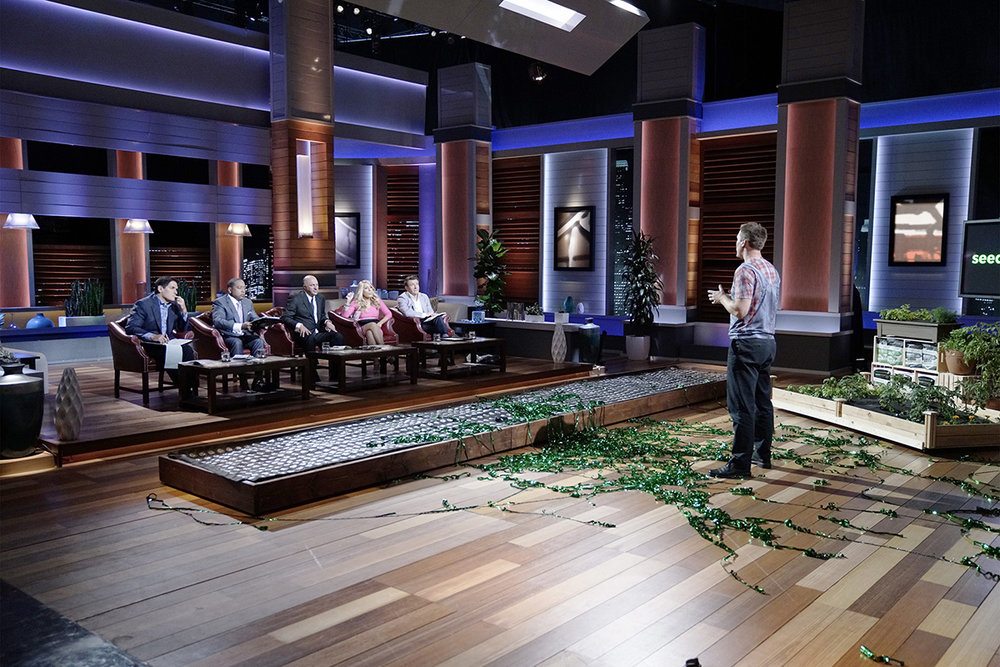 The company makes a roll-out garden with dissolvable pods of seeds. Its pods are optimally arranged within a weed-blocking sheet that makes it easy for first-time gardeners to get started.

Cameron MacKugler, Seedsheet's Founder & CEO, uses Twilio and Autopilot together to grow his business. He uses SMS marketing automation to send real-time tips, tutorials, and recipes to help customers grow their gardens. What's cool is the SMS messages align with the garden's growing lifecycle. Cameron and his team of three people literally have hundreds of gardens on their own little slice of Vermont, experiment with what does and doesn't grow each garden, then turn their insights into timely SMS messages sent to customers on Autopilot. Here's a glimpse of the journey (click to view hi-res):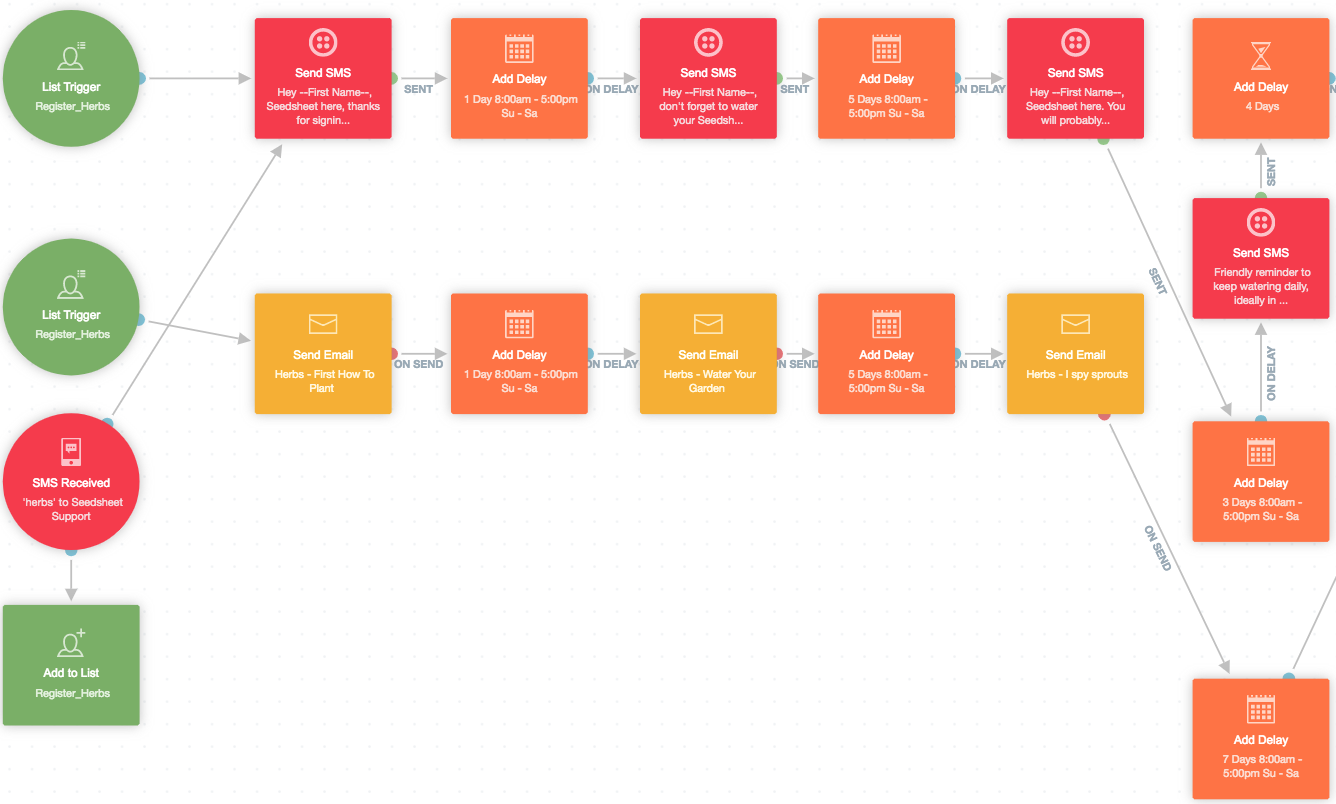 For Seedsheet's upcoming event exhibits, Cam ditched their pen-and-paper-on-a-clipboard newsletter signup and built a journey where anyone can text "join" to their phone number to opt-in. The approach is going to help Seedsheet grow their email list without the hassle of manually uploading a bunch of scribbled email addresses into their marketing database.

The new functionality has also changed how Seedsheet designs their packaging. The team wanted an easy way for customers to subscribe to their garden growing tips after buying the product in retail stores, but industry regulations didn't allow them to put a website address on the packaging where customers could go to opt-in. However, there's no regulations against putting a phone number! In the spring, Seedsheet's new packaging will hit the shelves of stores like Home Depot, QVC, and Ace Hardware. What's on the new packaging? SMS opt-in instructions to get tips on how to grow their newly bought garden, kicked off by the SMS Received Trigger. It's as simple as texting the package's garden type—herbs, cocktails, tacos—to a phone number.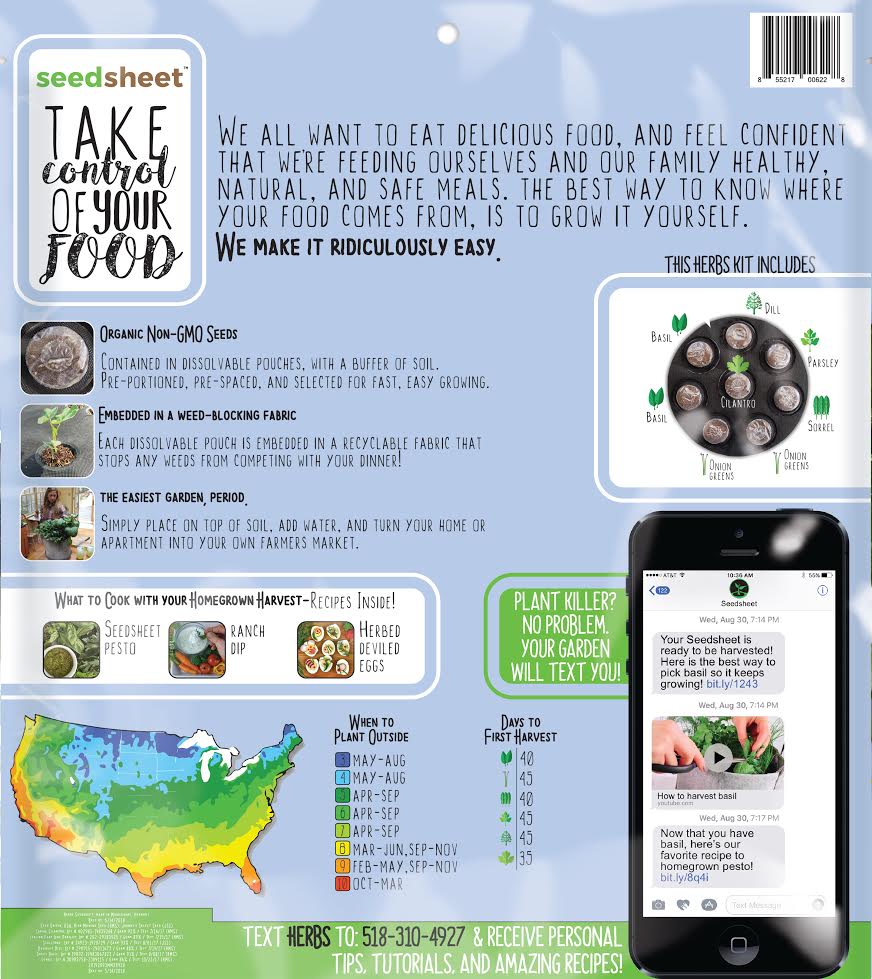 Cameron is the only Autopilot user on his team of four. He's single-handedly building out their SMS automation journeys without spending tons of time in front of a computer all day and without the help of a developer. He's empowered. In control. And growing his business.
"Autopilot's new SMS functionality has helped us create a personalized experience for our customers on the channel they use the most. This feature is changing the game for marketers." - Cam MacKugler, CEO & Founder at Seedsheet
What can you do with the new Twilio + Autopilot integration?
Your business can use the new SMS automation capabilities for all sorts of interactions throughout the customer journey including lead generation, sales touches, customer support, product engagement, special offers, and feedback collection. Here are three use cases in detail:
1. Capture new subscribers and leads with a text-in option
When marketers imagine capturing new subscribers and leads, the first place our mind goes is to online channels like our website forms or Facebook Lead Ads. These are a staple in our marketing strategies that aren't going away anytime soon. But what's interesting is we hardly think of SMS as a channel to grow our marketing databases or as the first entry point for new leads, when there are plenty of situations where SMS would come in handy.
Take speaking at a conference for example. You are on stage presenting your latest and greatest insight, and at the end you ask attendees to visit your website in hopes that they'll opt-in and stay in touch. There's too many steps required to do that—people have to go to your website, look for a form, put in contact info, and click submit. SMS is a personal and conversational way to shortcut the process.
With the new Twilio + Autopilot integration you can ask attendees to text "join" to a phone number and instantly capture them as a lead. Not only that you can also create a fun and personal follow up SMS experience that doesn't feel like marketing. Here's what it could look like in Autopilot: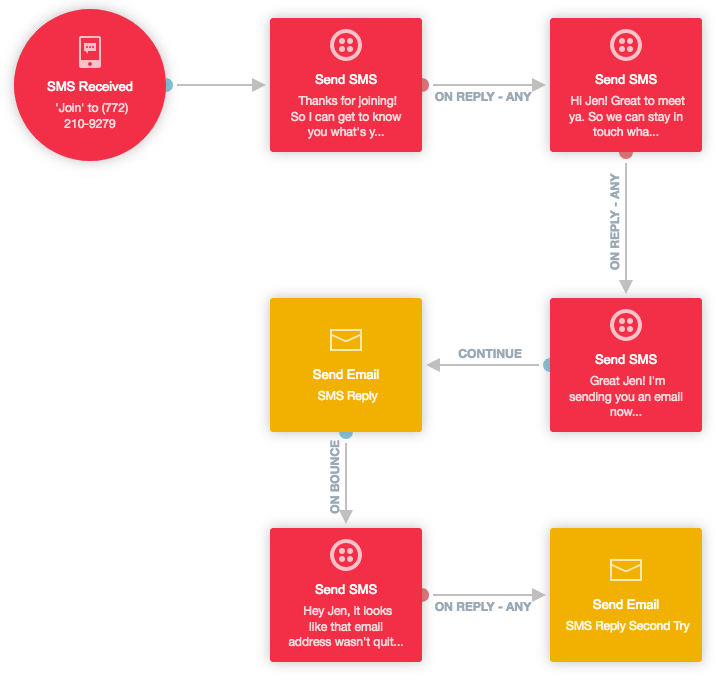 How it works:
A person texts "join" to your mobile number or shortcode

The SMS Received Trigger starts the journey

Autopilot sends a "Thanks for joining! So I can get to know you what's your first name?" text message and waits for a reply

When someone replies, Autopilot sends a message back, in this case "Hi –First Name–!  Great to meet ya. So we can stay in touch what's your email address?"

When the person replies, the email is added to a field in Autopilot and a confirmation email sends

If the email bounces we assume it's not valid, then Autopilot sends a "Hey –First Name–! It looks like the email wasn't quite correct. Would you mind sending me your email again?" text message

When the person replies, a second confirmation email sends and completes the journey
The ease of the text-to-subscribe option makes it a no brainer to capture leads when you speak at conferences, run meetups, or even advertise on billboards. Plus with the ability to personalize the follow up SMS conversation, you can create an experience that creates a genuine connection with new leads.
2. Run your next event like a well-oiled machine
In-person events take a lot of planning. You have to book the venue, figure out the food situation, confirm the speakers, and in the midst of all that do good marketing so you get people in the door and follow up with them well afterwards.
For your registrants, events are easy to back out of at the last minute because something always comes up, right? A fire at work. A surprise guest coming into town. Or traffic on the freeway. And for a lot of people, they just plain forget.
SMS is a great way to address a handful of these problems. You can send a quick SMS message to attendees on the day of the event to confirm whether or not they can make it. Something simple like "Hey –First Name–, just confirming…can you make it tonight?" will do the trick. And with the final numbers in hand you can:
Confirm the attendee numbers for the caterer

Engage people who aren't coming by saying you'll be in touch with the recording

Boost the number of attendees who simply forgot that the event was that night
Here's how you do it in Autopilot: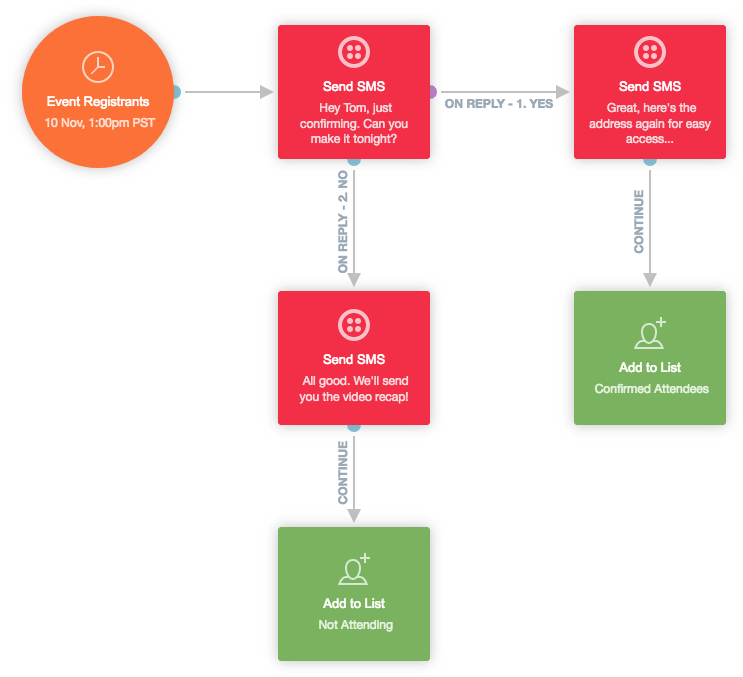 How it works:
The Time Trigger kicks off the journey to the "Event Registrants" list

Autopilot sends a "Hey –first name–, just confirming. Can you make it tonight?" text message

If the person replies "yes" then Autopilot sends a "Great, here's the address again for easy access…" text message and adds them to a "Confirmed Attendees" list

If the person replies "no" then Autopilot sends an "All good. We'll send you the video recap!" text message and adds the contact to a "Not Attending" list
Sending an SMS the day of an event is a quick and easy way to boost attendance, finalize planning, connect with attendees, and keep people engaged who can't make it. Why not try it for your next gathering?
3. Design automated SMS conversations
SMS has been a largely untapped channel in marketing automation for a few different reasons. The first is that marketers have relied on developers to help them automate more complex aspects of SMS marketing—like sending personalized replies—for far too long. The second is that the default use case of sending mass text messages has limited marketers' imaginations for what's possible with SMS.
The new Twilio & Autopilot integration helps break down these barriers. We've already covered how you can start a follow up conversation with contacts who subscribed by texting in a keyword, but I'd like to show off that follow up feature even more with an out-of-the-box use case that shows how easy it is to create automated conversations.
The example is a workouts of the week club ran completely over SMS. You get workouts on Sundays, Tuesdays, and Thursday nights for the day after, and the week's workout are adjusted based on if last week's were easy or hard. You also get a "How many times did you workout this week?" message at the end to hold you accountable and encourage you. Check it out in Autopilot (click to view hi-res):
How it works:
The Time Trigger starts the journey on Sunday night at 9pm

Autopilot sends an SMS that says "–First Name– how were your workouts last week? Reply "easy" or "hard" and we'll modify this week's to fit just right" and waits for a reply

When the person replies with "easy", Autopilot sends a message that says "Whoa whoa okay, I'll make this week's harder. Here's Monday's workout: [link]"

When the person replies with "hard", Autopilot sends a message that says "Too hard? Uh oh. I'll tone it down this week. Here's Monday's workout: [link]"

Two days later, Wednesday's workouts are sent for both the easy and hard tracks

Two days after that, Friday's workouts are sent

On Saturday, Autopilot sends a message that says "–First Name– how many times did you work out this week?"

When a person replies with "once", "twice", "three", or "zero" they receive a custom reply for each outcome. My personal favorite is "Two outta three ain't bad. Get 100% next week!"
This automated SMS conversation took less than 15 minutes to build and mimics the experience of a bot. I didn't have to write any code or work with a developer, and it's the furthest thing from mass texting the same message to a large group of people. What automated conversations are you going to build out?
We can't wait to see how you use the new Twilio and Autopilot integration. Try it out by texting "Hello" to 415-877-9922, then sign up for a free trial of Autopilot to create your own automated text conversation.