August 12, 2016
Content Mapping
If you haven't heard of the term 'content mapping,' then you are not alone. While many marketing professionals like to throw around long terms (often just to confuse people), rest assured that understanding how to map your content is a vital aspect of a profitable marketing strategy.
What is Content Mapping?
Content mapping is a content-centric approach to marketing that is based on user intent. This type of workflow is best displayed through a visual map that shows how micro and macro interactions occur.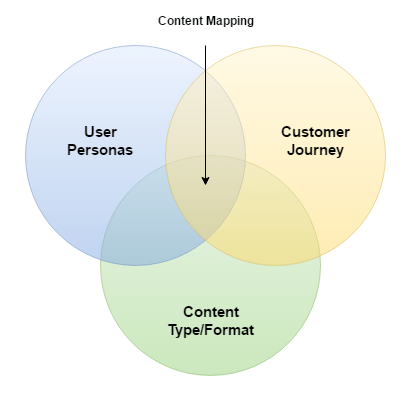 Content mapping helps you align your content production and distribution with the needs of your audience at each stage of the customer journey. The purpose of mapping content serves many purposes from an SEO standpoint, but more importantly, it makes your marketing efforts more efficient.
Why is content mapping important for your website?
No matter the size of your business, you face limited time, money, and resources to grow your customer base. The benefits of a content map are that it ensures the efficiency and effectiveness of your marketing efforts. There is an increased amount of content available to your audience. The sheer amount of content out there can overwhelm your customers and drown your business into the background.
This means that you must use every tool at your disposal to produce content that is relevant and valuable for your audience at just the right time. Content mapping offers insight and benefits for your marketing campaigns, including:
Create content that matches your customer's intent
Produce relevant content to nurture leads effectively
Increase content SEO rankings
Easily measure and optimize based on set KPIs
Basing your content around the needs and contextual placement of your audience is no longer an option for your business. If you want to boost conversions and increase sales through online marketing, then your business needs to create content around the needs of your customers. Content mapping allows you to build relationships and interactions between different pieces of content. As your marketing efforts expand past a single channel, you need to ensure each piece of the marketing machine works together.
Every piece of content needs to support the customer journey, and visually mapping content is one of the best ways to refine the workflow that your customers will experience.
Example of a content map
Your business can use different types of content maps depending on the amount of detail and level you want to visualize your content workflow. The best place to start is with a content map of 5,000 feet, where you can see how different content types interact. At this level you see how emails, blog posts, text messages, etc. work together.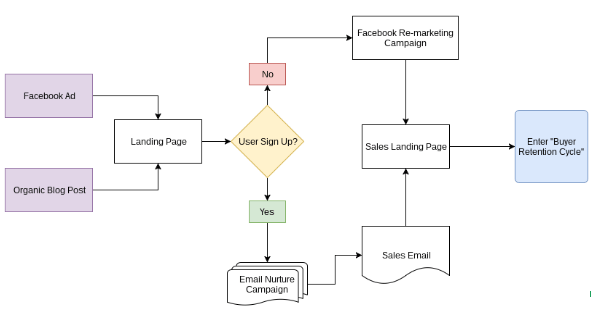 Creating the 5,000 foot visualization strategy will help you understand all your content types and technology requirements for your audience. This type of content map will help you align your current team with the needs of your marketing strategy before you jump into content production.
Your customer and the content map
Effective marketing is based on the ability to deliver the right content to the right people at the right time. The needs and expectations of your customers change as they progress through the buyer's journey. These changes must be addressed with specific content at each stage to ensure your business can close more sales.
It's not enough to produce great looking content anymore. You can't spam your way to success because the amount of content has increased and the ways your customers consume content has changed.
Mobile devices have claimed the majority of website traffic, so you not only have to map based on content types, but you also have to include how customers will consume your content. Is your business ready to adjust messaging and content strategy to reach your customers? Content mapping is one method to keep your eyes on the client and deliver valuable content at the most relevant times.
Coordinating your user personas, marketing content, and where your audience is at in the customer journey can be overwhelming. However, the best way to manage this vital aspect of marketing is to always remember the needs of your customer. Focusing on the needs of your customers and positioning your content to drive your business goals will help you streamline marketing across all channels of your business.
Great content every step of the way
Your content map will be a 5,000-foot view of your marketing campaigns. Your content map could include how several channels and content types interact, or you could highlight interactions of a specific content type in a marketing campaign.
A solid marketing strategy depends on your ability to incorporate triggers within specific channels and how your interactions cascade throughout the overall customer journey. This type of roadmap will provide your team with the overview you need to understand how everything works together and the inter-workings of campaign tools. Together this set of information will guide your marketing initiatives by laying out key ingredients, including:
Customer steps and interactions
Triggered events between interactions
Types of channels and content used
Customer-facing events
Back-end events and data collection sequence
No matter the scope of your content map, you should always include time and the cause/effect relationships to understand who, what, and when content will be triggered.
Understanding the relationships between who is receiving content, what content they will receive, and when they will receive it will help you optimize your marketing strategy and increase your ROI.
Content mapping simplified
While there are plenty of tools out there to help you create a content map, you should always choose the option that keeps your focus on your customers and not on the tool you are using. A simple tool like Autopilot will help you visualize each step of your customer journey and optimize interactions along the way.
Visualizing the steps your customers go through the customer journey is an often overlooked aspect of a marketing campaign. Matching the needs of your customers with their current stage of the customer journey will allow you to produce content that is more effective in increasing your ROI and sales. Check out Autopilot to visualize your content, and learn more about how you can bring your marketing goals to the next level!
Do you have any follow up questions about content mapping? Let us know in the comments.