May 22, 2015
What is Marketing Automation?
Marketing automation is still relatively new with only 4% of companies using marketing automation software. Even so, the category is growing like crazy because businesses are realizing its benefits. According to VentureBeat, companies using marketing automation are reporting an 80% increase in leads and a 77% increase in conversions. Others are just plain tired of manually sending the same emails over and over again or are ready for more robust nurturing than one-off batch and blast emails.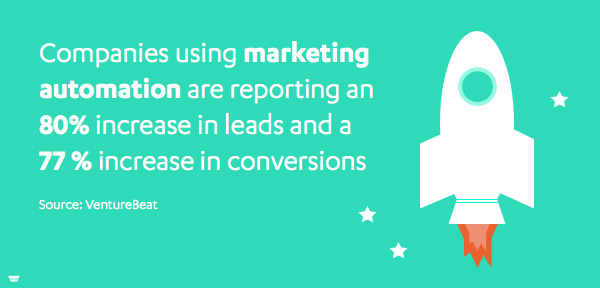 While the benefits are many, it's often a challenge for companies to quickly get up and running with marketing automation. In this post, I'll walk you through the seven essential steps to getting started with marketing automation, so you can begin turning strangers into leads and leads into customers, automatically.
Step 1. Centralize and organize your contacts
Your first order of business is to centralize all of your contacts in one place. This may take some digging, but you've spent serious time and money acquiring those contacts. Use this list to jog your memory of all the places you may have contact names and email addresses lying around:
Scattered business cards from trade shows you attended months ago
Lists from your existing batch and blast email provider
Scribbled on napkins underneath your desk
Paper email sign ups from a recent event
Multiple spreadsheets sitting on your hard drive
Once you've gathered all of your contacts, import everyone into your marketing automation software and segment each group with criteria that's important for your business. For example, consider a retailer of fine wines who sells directly to its customers, as well as online through it's e-commerce website. Their segments could include VIP customers, red wine lovers, sommeliers, partners, and wine bloggers. Each group cares about different things, and as a result, marketing to each group may take a different shape and form. Your segments will look different depending on your particular business. Now that you've laid the general framework for who's who, it is time to get to know your visitors even more.
Step 2. Get to know your visitors
In this step, your goal is to gain a deeper understanding of your audience and how you can most effectively reach them. Sites like Quantcast and Google Analytics provide a wealth of information about the visitors to your website. As you're diving in to the analytics, pay special attention to:
Demographics. What is your audience's age range? Gender? This matters because how you talk with a 48-year-old woman is incredibly different than how you talk with a 19-year-old college guy. For example, I recently was a finalist in a landing page copywriting contest with the headline "Cleans your floors while you cut a rug." Perfect copy for the jitterbug generation, but would've missed the mark for anyone under 70.
Interests. Do they like movies? Are they travel buffs? What industry do they work in? Your audience's interests give insight into where they hang out and potentially the best places to advertise.
Geography. Where are they located? What language do they speak? Let's say you discover a cluster of customers in Des Moines, Iowa who are absolutely crazy about your product…hosting an event there could grow your business and brand. Or what if a large number of French speakers are coming to your site in droves? It may be time to translate it to Francais.
Technology. What browsers do they use? What devices do they use? Imagine 87% of your website visitors access your website through Safari on their iPhone…but it's not formatted for mobile. A redesign focused on making your website responsive might be worth adding to your list of next projects.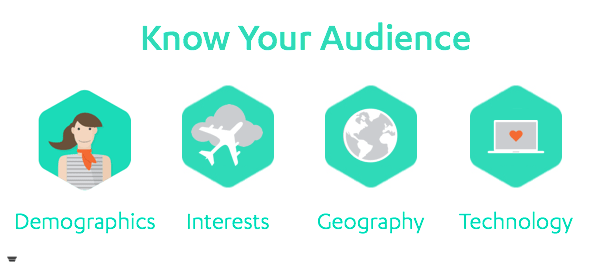 In addition to looking at data, another idea is to simply get on the phone and listen to your customers. Ask them what their needs and priorities are. Ask how you can help them reach their goals. A lot can be gained from a quick 15-minute phone call where you let them do the talking. There is a lot to learn about your current audience. The next step is preparing the way for people connecting with you in the future.
Step 3. Capture leads from your forms
This step is about making it easy to enter the centralized contact database you've just built by setting up your forms to capture new leads. Forms live in a variety of places: email newsletter opt-in boxes, landing pages offering a free whitepaper, contact us pages, and more. The common thread is forms capture people's information to build your email list. Many marketing automation platforms require you to use their own landing page builders or form handlers in order to route contact information into their systems. This makes it difficult to capture new leads if you already have content built out on a Wordpress or HTML website. Unlike other marketing automation platforms, Autopilot's universal form capture can detect forms from any URL on your website, automatically mapping form fields and allowing you to pull lead information into your database without having to re-create landing pages or build new forms.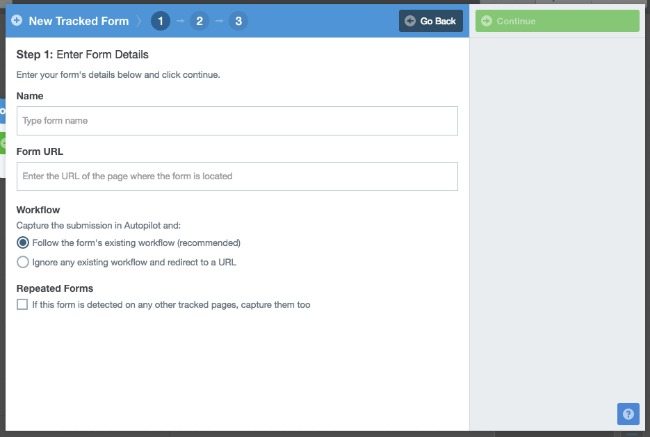 Tracking forms with Autopilot takes a few steps: grab a code, insert the code, put in the URL, and watch the magic happen. Check out this step-by-step guide on how to track a form. You've centralized your database, gotten to know your existing audience and set up your forms to capture new leads - it's finally time to send your first email.
Step 4. Send your first email
There are all types of emails you could send: welcome emails, qualification emails, reactivation emails, trial emails, onboarding emails, newsletter emails, the list goes on and on. What's important right now is starting simple and figuring out what really drives results. If you have already been sending a newsletter, try an advanced email newsletter journey and follow these 5 tips to double your open rates. Or maybe your best best is re-engaging with people who haven't spent a dime on your products or services yet by sending the 9-word email. For a quick win, repurpose your highest traffic blog post into an email: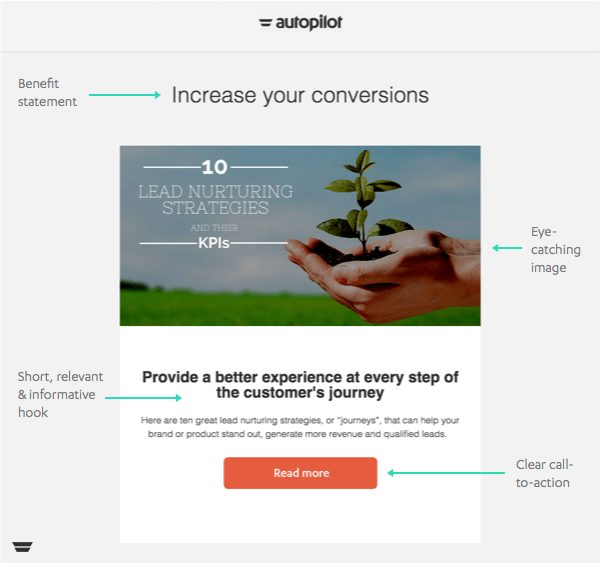 In this example, we used a simple template with an eye-catching image, a few compelling sentences and a clear call-to-action to read the full blog post. That's it. This email has driven tons of traffic and a similar one could do the same for your business. As you start sending emails, you might be surprised to find a very live customer base clamoring to hear from you more frequently. Up next is a strategy to give massive value to your readers and grow your email list in the process.
Step 5. Create more leads with gated content
Gated content is any content readers receive in exchange for giving you their email address. They are usually ebooks, whitepapers, and reports that are enticing and valuable enough for readers to give you access to their inbox so you can nurture the relationship over time. Here's an example to illustrate: Let's say you sell grills. Joe comes to your website because yesterday his GrillMaster9000 started making funny noises. He's not looking to buy right now but he's started looking…just in case. In your sidebar there's an offer for an ebook called "18 Dry Rubs You Have to Try" in exchange for an email address. He signs up because dry rubs are his favorite. Now, Joe's email address is in your database for you to send relevant and personalized content to him over time until he's ready to buy his next grill. That's the power of gated content. Here's a few other gated content examples to get your creative juices flowing:
Artist divulging his secrets in an ebook called "30 Secrets to Creativity"
Real estate agent sharing a report about the state of the housing market in San Francisco
Marketing consultant offering a 45-minute strategy session
Productivity guru giving away "The Ultimate Time Management Checklist"
Winery telling all in "Life Lessons from a Sommelier"
Gated content is an opportunity for you to share your hard-earned insights over the years and simultaneously draw in new leads to grow your business. On deck is how to grow your conversions.
Step 6. Launch a conversion journey
A conversion journey is when a customer enters into a buying sequence like purchasing online from a shopping cart or signing up for a free 30 day software trial. The touchpoints and interactions in that journey are to enable, activate, and convert that lead into a customer. Here's a behind the scenes peek at the trial conversion journey we use at Autopilot to show you what this could look like: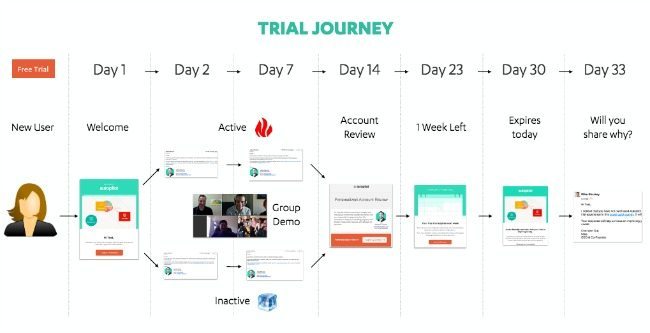 This trial journey is a buying sequence, yes, but it's focused on helping trialists create their first journey in Autopilot. Why you ask? We've learned that 55% of trialists who publish a journey end up purchasing a subscription to Autopilot. It's the key success metric for trial users to get the most out of our product. The lesson here is that defining what success looks like is the key to creating an effective conversion journey. Is it when your leads sign ups for a demo with a salesperson? Is it when they view a certain page on your website? Is it when they reach a certain milestone in using your product? Once you've nailed down the key success milestone that leads to a purchase, work your way backwards to figure out the steps in the conversion journey it takes to get there.
Step 7. Use data to crank your performance
Making decisions without data is like shooting a target in the dark - you don't know where you're hitting. The right data can give insight into what's working and what's not as well as show you where to invest resources and make changes. Focus on these metrics as you figure out the best tweaks to make to your marketing automation strategy:
Total number of contacts: Every person on your marketing and exec team should know your marketing database size. Make sure you set quarterly/annual goals to grow these!
Number of people in each database segment: What's the numerical breakdown of the segments you created in step 1? What percentage are customers? Leads? Trials? Or are in a lead nurturing journey?
Email open & clickthrough rates: What types of email subject lines are getting the best open rates? Which call-to-actions are getting the most clickthroughs? You should achieve 10% – 20% newsletter open rates when sent to your entire marketing database (higher if you target specific segments) and typically 3% - 8% of those opens will click through. Pay attention to what types of communication and content your contacts are responding to.
Blog & website engagement: What content is driving the most traffic? Use Google analytics to determine which web pages or blog posts are most popular (or not so popular) with your audience by looking at number of pageviews, time on site and bounce rates.
Social media metrics: A tool like Buffer can show you your most popular and least popular social posts by the number of comments, likes, clicks, and shares they receive. This helps you understand what your audience wants to see more of. Is there a specific tweet that went viral? Do more of that.
Unsubscribe rate: What percentage of people are unsubscribing from your email list? If you're seeing unsubscribe rates that are more than 0.3%, then you need to re-evaluate your send frequency and content.
Conversion rate: What's your goal for the conversion journey you created in step 6? What are tweaks you can make to move you closer to your target?
Paying attention to these metrics will show you how people are interacting with your business through the various touchpoints in the customer journey as well as where you need to make tweaks to improve your results.
You're ready to get started
To recap, here are the seven steps to getting started with marketing automation:
Centralize and organize your contacts
Get to know your visitors
Capture leads from forms
Send your first email
Create more leads with gated content
Launch a conversion journey
Use data to crank your performance Getting started with marketing automation is at your fingertips. All you have to do is follow this proven success path and you'll be on well on your way to increasing leads and conversions, moving past batch and blast emails, and turning strangers into customers, automatically. Are you left with any burning questions about getting started with marketing automation? Any there any steps or tips you'd add to this list? Give us your two cents in the comments.