June 26, 2015
6 Reasons Why People Unsubscribe From Your Emails
An opt-in email list is a key asset for growing your business. Why? Subscribers giving you access to their box is an open invitation to engage with relevant and interesting content over time. This ultimately results in an improved customer relationship, more sales, and word-of-mouth growth. A high priority for every email marketer is how to stay top of mind with subscribers without making a dent in unsubscribe rates. Email reports and analytics can tell us what our unsubscribe rates are, but they don't tell us "why" people have unsubscribed. In a recent study, GetApp's independent research program, GetApp surveyed over 500 internet users to learn the most common reasons why people unsubscribe from email newsletters. Keep these six reasons for unsubscribes (and the solutions to prevent them) in mind to help lower your unsubscribe rates and cultivate longer lasting relationships with those on your email list.
Reason #1: You send too many emails
According to the research findings, "receiving too many emails" was by far the number one reason people decide to unsubscribe from an email newsletter. The root causes behind sending too many emails could include:
Forgetting to communicate your email send frequency in your opt-in form
Sending emails more frequently than you originally promised
Believing that your subscribers want to hear from you more frequently than they actually do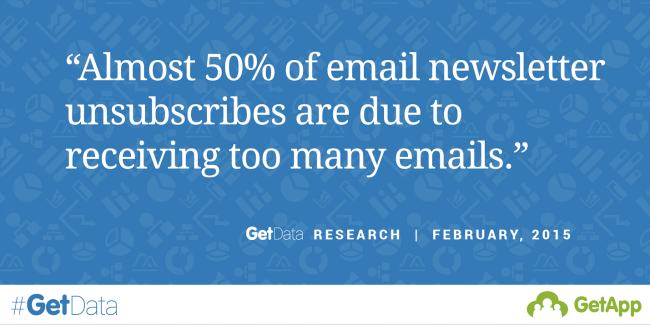 Solution: Send a newsletter at least once per month. Based on our own 2015 study involving 327 companies from 10+ industries, we learned that companies who send marketing communications to customers at least every 2-4 weeks generate twice as many leads as those who contacts customers every 4-12 weeks.
Reason #2: The emails looks like spam
Spammy emails either a) get weeded out by email spam filters or b) don't get opened by the reader because they look fishy. Readers start the manual filtering process by looking through the subject lines in their inbox for false promises and vast amounts of exclamation marks!!!!! Here's an actual screenshot from my Gmail:

While I'd love the "Special Gift of Money, Fame & Power," I highly doubt Manifestation Miracle can give those things to me. These subject lines reek of spam. Solution: Avoid spammy and salesy trigger words in your subject lines like "cheap," "credit," "gimmick," "obligation," or "incredible deal." This longer list of spam trigger words will help you steer clear of your subscriber's junk mail.
Reason #3: You send irrelevant content
Relevant content is timely, personalized and useful wherever the customer is at in their journey. Or in other words, send the right content to the right person, at the right time, on the right channel. That's the goal. On the other hand, irrelevant content misses the mark to the point where a reader says the dreaded words that are typically followed by unsubscribing: "This email isn't for me." Irrelevant content looks like:
Sending a veteran blogger an email about "How to get started with blogging"
Inviting existing customers to "request a demo" they've already done
Giving beauty advice when readers signed up to learn about cars
Solution: Send relevant and personalized emails to your subscribers by tailoring your content based on demographics, behavior, and engagement. Because generic one-size-fits-all messaging is not as effective or profitable, it's just noise. These personalization statistics tell the full story. Pro Tip: Take a page out of Fab's book and proactively unsubscribe people who aren't engaging. It's counterintuitive but effective - some people opt-back in, disinterested readers get less inbox clutter, and your database stays clean.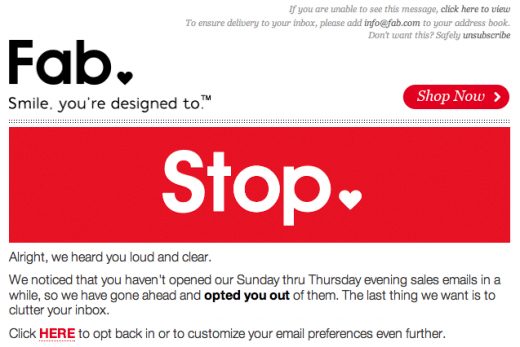 Reason #4: Readers didn't know they were subscribing
Here's the scenario: Marie receives a legitimate email newsletter from a legitimate company in her email inbox. She open it and realizes "I never signed up for this" then immediately unsubscribes. This happens frequently - 24.8% of women and 26.8% of men are auto-subscribed to newsletters even though they never signed up. And it could be a cause of your email unsubscribes. Solution: Permission marketing. Ask readers to "opt-in" to receive email communications from you. Not only is this a best practice, it'll ensure you fly under the spam radar.
Reason #5: Emails not tailored to reader preferences
Emails not tailored to subscriber preferences miss the mark with the mechanics of the newsletter - formatting, language mishaps, designed for desktop and not mobile, etc. Or in other cases a reader signed up to receive a certain type of communication (i.e. email newsletter), but were added to additional lists they didn't want to be on and have remove themselves from an email preferences center later.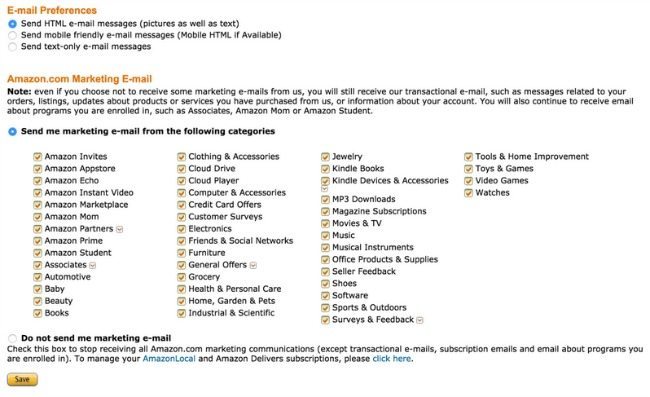 See how this can nudge people towards unsubscribing? Solution: Set up an "Email Preference Center" so your readers can choose when, how, and what they want to receive from you. And get to know subscribers through your email analytics. Pay attention to:
Time of day that produces the most engagement
Devices your newsletters are read on so you can adjust formatting
Where subscribers are located, which can give insight into language and opportunities to translate your newsletter into different languages
Reason #6: Too much or too little content
Unsubscribing because of too much or too little content makes sense on the surface… Sending a 5,000 word long newsletter = bad Sending a one sentence newsletter = bad too But at its heart, the discussion of "too much" or "too little" content hinges on quality. If your content is valuable, subscribers will read every word and clamor for more. If your five-sentence newsletter shares a nugget of wisdom that increases revenue, do you think subscribers will care how long it is? Solution: Create content that informs, educates, and inspires. But most of all, focus on quality. People want to read emails that are clear, concise, and scannable. Dig into your analytics and find the topics that your audience is proven to care about. If you don't know what defines quality, reach out to a few of your most engaged readers and collect feedback through a survey or phone call.
The research has spoken
To recap, the six most common reasons people unsubscribe from your email list are:
Too many emails
Looks like spam
Irrelevant content
Didn't know they were subscribing
Not tailored to their preferences
Too much or too little content
Christophe Primault, CEO and Co-founder of GetApp sums up how to interact with subscribers in light of these research findings: "Internet users, these days, are savvy about marketing tricks and traps. So, don't try to trick or trap them. Keep an eye on your unsubscribe rates. If lots of people are leaving you, try sending fewer emails, change the design and make it less 'marketing-y' and, importantly, make sure you're sending content that people actually want to engage with." Are there any other reasons why you unsubscribe to emails? Or things you have found your audience doesn't respond well to? Please share in the comments.