June 5, 2015
How to Run a Webinar
Webinars are one of the most effective ways to establish trust with your audience and distinguish yourself as an expert in your industry.
In fact, research shows that 62% of B2B marketers use webinars as part of their content marketing strategy to attract new leads and nurture existing ones further along the buyer's journey.
Because webinar attendees are devoting time out of their day to listen to you, they tend to be more highly qualified and ready to buy than those who have simply clicked on an email or downloaded an ebook.
But putting on a webinar can seem intimidating especially if you've never planned one before. Lots of things could go wrong…What if nobody shows up? What if my technology flops? What if I run out of things to talk about?
I've seen all of these things happen (and worse) over the course of executing 50+ webinars. The good news is none of those things have to happen to you. In this post, I'll walk through a full proof plan to make sure your webinar goes off without a hitch, from beginning to end. And for those of you who are short on time or want this checklist in a more digestible format, here you go!
Before your webinar
The majority of the work for a webinar happens before you ever go on air. In my experience, an hour long webinar requires at least 16 hours of preparation to nail down a topic that will compel people to sign up, create a solid presentation, and promote it to make sure you get as many registrants as possible. The following steps are a checklist for everything you need to do to rock your webinar preparation and planning.
1. Set a goal for your webinar.
It's all too easy to say, "Our goal is to establish our company as a thought leader in X topic," but this isn't measurable. Every webinar should have a purpose and a clearly defined goal that ties to your larger marketing initiatives. Here are some ideas:
Attract over 100 registrants and achieve a 50% attendance rate
Qualify 40 new leads to nurture
Generate social media buzz by reaching 25,000 impressions using your webinar hashtag
Grow your email list by attracting 75 new contacts who are interested in your topic
Reach a 90% satisfaction rate as measured by an exit survey
Convert 5 webinar attendees into customers
2. Choose a topic that'll draw people in.
You've set your goal and you know you want to host a webinar, but how do you decide what to talk about? Webinar topics are generally educational but can be product focused if there is demand from your target audience.
The best webinars are those that provide attendees with practical, actionable takeaways or address a pertinent challenge, trend, or recent update. A good place to start is to repurpose your most popular blog post and turn it into a webinar. For example, we recently took a popular blog post about lead nurturing and turned it into a webinar.
3. Nail down a date, time, and speakers.
Confirm a date and time at least 4 weeks before the webinar. If you are bringing a speaker/influencer outside of your company, it's important to book a spot on their calendar as far ahead of time as possible.
The most logical time to schedule your webinar is a weekday (Tuesday, Wednesday or Thursday), before lunch for those on the West Coast and after lunch for those on the East Coast. You want your window to work for as many people as possible which generally means avoiding super early or late hours and Mondays or Fridays when people tend to be more busy or taking a long weekend. Of course, tailor the timing for your unique audience and experiment to see what works best for you.
4. Schedule a dress rehearsal.
Getting the speakers in the same room to do a run through ensures no one is going in cold the day of the webinar. Give yourself enough lead time to create the webinar agenda and talk track (step 8) before the practice session. Because it can be difficult to get on a busy CEO or influencer's calendar, I generally schedule these early on in the planning process for a few days prior to the webinar. This gives you enough time to make any final changes to the presentation or schedule an additional practice session if necessary.
5. Solidify the title, abstract and key takeaways.
The title of your webinar can make or break your number of signups. Aim for an attention-grabbing title using keywords people are searching for, language that your target audience has used, or a benefits-driven statement articulating the main value proposition of your webinar.
For the abstract, write two to three sentences describing the problem or challenge the webinar is addressing and another short paragraph introducing the solution. End with a bullet point list of key takeaways the audience will learn from your webinar (see an example).
6. Schedule the event in your webinar software.
For your technological setup, GoToWebinar is the most widely used web conferencing system that integrates with many other services, though it is arguably outdated. Fuze, AnyMeeting or even Google Hangouts are worth checking out too.
This post does a good job of reviewing 8 popular webinar software options if you are on the fence.
7. Create (and test) an enticing registration page.
The registration page is where people sign up to attend your webinar. There are plenty of landing page builders you can use that integrate with webinar software. Here's an example highlighting the essential components of a registration page: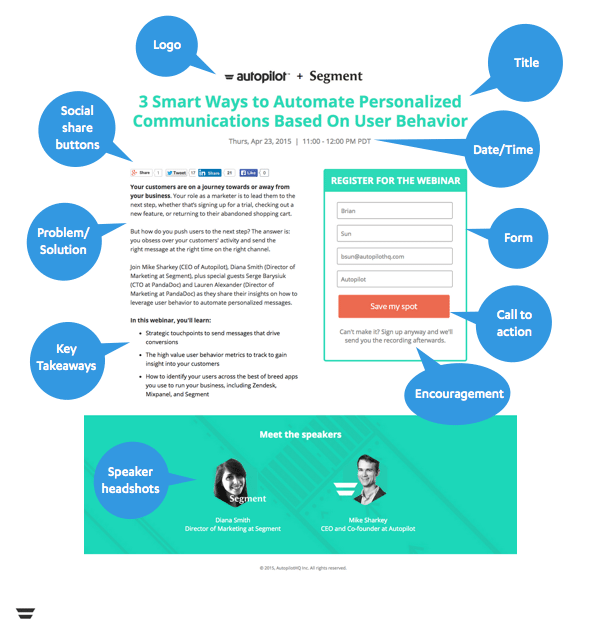 Paste the title, problem/solution abstract, and key takeaways you solidified in step 5. Be sure to include the date and time, a form for registrants to sign up, speaker information, and a strong call-to-action button. "Register" is a typical webinar call-to-action, but this (along with other elements on your registration page) is something you should certainly experiment with.
For example, Unbounce found that by changing the possessive determiner from "you" to "my" increased click-through-rates by 90%. We conducted a similar A/B test and saw a 15% conversion rate lift using "Save my spot" compared to "Save your spot."
Once your page is published, be sure to sync it with your marketing automation or email software. Autopilot has a universal form capture feature which allows you to capture form submissions from any form on your website with a tracking code, making it easy to automatically add registrants' contact information into a list for following up with later (step 18).
8. Promote your webinar.
Make the most of all your hard work preparing by getting as many registrants to attend as possible! There are a number of different ways to promote your webinar. Here's some ideas:
Stagger social media posts leading up to your webinar on Twitter, Facebook, LinkedIn, and other social accounts your audience is on. Pro Tip: use a catchy hashtag consistently throughout your promotion and create visual images to accompany your posts.
Send a dedicated email and reminder email to invite your existing marketing database. Most registrants tend to sign up 1 week prior to the webinar, so it's best to send your reminder email 1-2 days prior to your event to create some urgency. Bonus points if you send it from one of your speakers. (And don't forget to suppress anyone who already signed up to avoid spamming.)
Add your webinar to your monthly newsletter
Ask anyone you have a good relationship with to help you promote your webinar. This could be in the form of writing a guest post for one of your partner's blogs or having an influencer recommend it to their followers on social media.
Add banners promoting your webinar to your blog and website homepage. If you plan on hosting lots of webinars, it's a good idea to have a dedicated "Resources" section on your website so there is one centralized location for promoting upcoming events.
Put some money behind your webinar with paid advertising across LinkedIn, Facebook, Twitter or Google Display Network. You can also set up retargeting ads promoting your webinar with a tool like Adroll.
9. Develop your webinar content and presenter notes.
The purpose of the slide deck is to give your audience visual aids to help make your content easier to understand and follow. Here are some of my best tips for creating standout webinar content:
Try to stick to one point per slide. This is more impactful, helps the presentation flow more naturally and allows the audience an opportunity to reflect on each idea.
Visuals are your friend: you can find free high quality, royalty free images online on sites like Death to the Stock Photo, Unsplash, and Pexels.
Keep the slides consistent. Pick a color scheme, a couple of slide layouts, a font, and 3 font sizes max to stick to throughout the deck.
People remember stories. Use plenty of personal anecdotes, humor and examples to explain your points.
Don't be boring. You'll notice your audience drop off if you stay on the same slide for too long. Include polls and breaks for questions throughout the webinar to increase engagement.
Your audience is there to learn, so remember to include advice that is easy for them to take away and practice.
Give your speakers time guidelines so they know how long to spend on each section. Here's a high level example of what your agenda could look like for an hour long webinar:
INTRO: 5 minutes

CONTENT BACKGROUND: 10 minutes

EXAMPLES: 15 minutes

DEMO: 10 minutes

TAKEAWAYS: 5 minutes

Q&A: 15 minutes
Wordy slides are a turn off. If you need cues to help your speakers remember content, add them to the presenter notes. Having a talk track for your presenters is a smart idea because it acts as a safeguard in case they freeze on air. It also helps to ensure they cover the key point of every slide and stay on topic throughout the webinar. Flesh out each section with bullet points to cover, like this example housekeeping slide:
"Before we get started, we have a few housekeeping items…

Feel free to ask questions anytime during the presentation.
We will be moderating questions throughout the session both in the GoToWebinar panel and on Twitter.
The hashtag for the webinar is #wineisamazing and if your question is not answered today, someone will followup with you after the webinar.
This session is being recorded and will be sent to you following the presentation for your own purposes or to share with others.

…Now, let's get started with our webinar about three amazing wine pairings for dinner tonight."
Strive to send a first draft of your content to your speakers for approval and feedback at least 1 week prior to the webinar. Ideally, you will have a final version ready to go for your dress rehearsal.
Day of your webinar
The big day is here! Today is about making sure everything runs smoothly. These handful of steps will make it so you don't miss a beat with your webinar.
10. Tweet the event reminder.
Sending a reminder tweet the day of the webinar may land you a couple of last minute registrations. Here's an example from a recent webinar: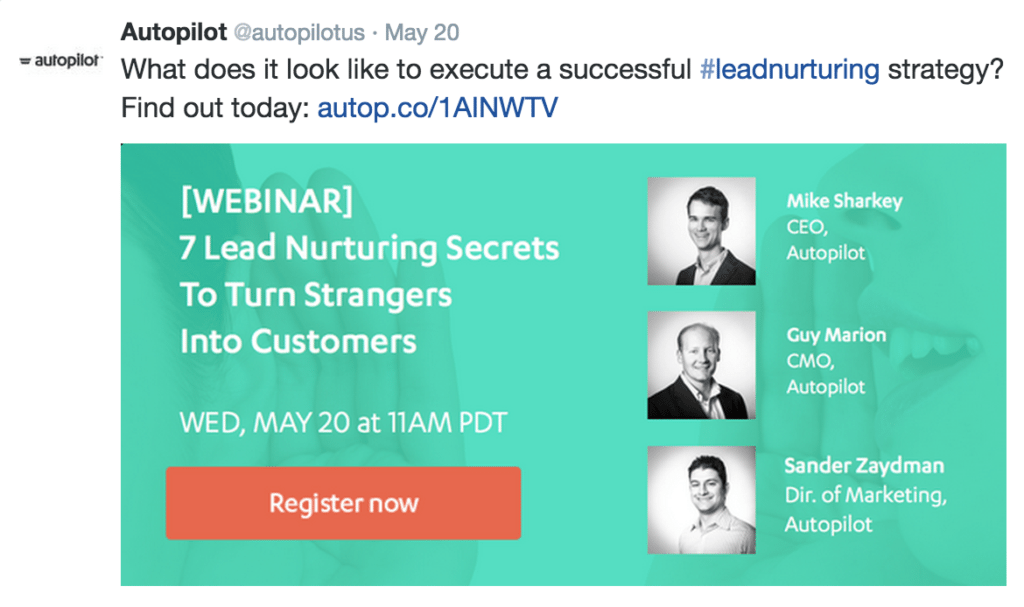 Include a photo in your reminder tweet to drive engagement. According to the Social Media Examiner, adding a photo can boost retweets by an impressive 35%.
11. Prepare seed questions.
Sometimes your audience can be a bit shy and wait for the ice to break before they start submitting questions. Have a few questions at the ready for the Q&A portion.
12. Meet in the webinar room 45 minutes in advance.
This gives enough lead time to settle everyone in, answer any last minute questions, take a few deep breaths and test audio before the show kicks off. Make sure you choose an echoless room, free of any potential distractions.
13. Allow the audience to start joining the webinar 10 minutes before you start.
This helps ensure you start on time and gives the early birds a place to go. Bonus if you display the first slide of your deck on the screen and play entertaining background music while they wait.
14. Record!
Don't forget to press record. Since only 42.9% of webinar registrants are likely to attend on average, make sure you have a recording to share with the remaining 57.1% and to use for post-webinar promotion opportunities.
15. Live tweeting & Twitter monitoring.
Who knows what brilliance will come through during your webinar? Designate a teammate to live tweet any golden nuggets from the webinar using your hashtag and to monitor Twitter for attendee questions.
After your webinar
You did it! Now comes the fun part of reaping the benefits of your webinar forever.
16. Upload the recording to YouTube (or your preferred video platform).
The first thing you should do after a webinar is get a recording live as soon as possible. This step can take some time if you need to fine tune your video by adding special effects or editing out any awkward pauses, but it'll be worth it for every new person who watches your video.
17. Publish a recap blog or convert your registration page into a recording landing page.
Writing a recap blog post that includes the recording, slide deck (we upload ours to Slideshare), tweetable takeaways, and bullet point list of topics covered is another way to extend the life of the webinar. Here's an example of one of ours. This is also a good opportunity to address any questions you didn't have time to answer live.
18. Send follow up emails within 24 hours.
There are two audiences to communicate with after the webinar: 1) people who attended and 2) people who registered but did NOT attend. Following up is essential to close the loop with both groups and a perfect outlet to drive traffic to the blog recap or landing page you created in the last step.
Feel free to modify this template or write your own to follow up with attendees:
Hi –first name–,

Thanks for attending [insert webinar title here] with [insert speaker name here] and [insert speaker name here.] We hope you enjoyed this wide ranging discussion, covering everything from [insert compelling topic here], to [insert compelling topic here.] You can view the webinar replay on YouTube - ADD LINK. Stay posted for future webinars. Until then, you can [insert call-to-action].

Thanks again and have a great day!

[Insert your name here]
The good news is even if people don't come, you still have their email address to stay in touch. Send non-attendees a follow up email with the webinar replay and a relevant call-to-action.
Build off of this script or create your own from scratch to follow up with non-attendees:
Hi –first name–,

Sorry we missed you today, but you can still learn [insert compelling topic here.]

Watch the replay of the webinar, [insert webinar title here - ADD LINK], with [insert speaker name here] and [insert speaker name here]. Stay posted for future webinars. Until then, you can [insert call-to-action].

Thanks again and have a great day!

[Insert your name here]
19. Thank your speakers.
If you have the opportunity, send your speakers a handwritten note in the mail to thank them for their time and energy on the webinar. If not, still send a genuine thank you over email. This will make them feel special and more likely to help promote you again in the future.
20. Evaluate your performance.
Now it's time to evaluate your performance to see if you've hit your webinar goals from step 1. This is also a good time to conduct a post-mortem to document lessons learned and how you can improve next time.
Life after your first webinar
The biggest questions after running your first webinar are "Should we do another one?" and "Is it worth investing in?" Depending on the length of your sales cycle, you may not see any return on investment from your webinar for a while. The key is to think long-term: Will you be happy with the quality of leads and number of new customers driven by webinars 6 months from now? a year from now?
I hope this post has given you some ideas for executing a kick-ass webinar from beginning to end. If you haven't already, download our Webinar Checklist to help guide you in planning your next one.
Want to learn more? Here's the technical steps to setting up a webinar.