September 23, 2015
Trade Show Marketing
Last week 150,000 of our closest friends made the trek to San Francisco for Dreamforce 2015. The conference featured keynotes from great minds like Microsoft CEO Satya Nadella, countless seminars covering every tech topic imaginable, and an expo with hundreds of sponsors. Fresh off a strategic investment from Salesforce Ventures, the Autopilot team (along with our giraffe mascot George!) set up a booth to connect with people interested in automating the customer journey. Months of planning went into the whole process and our team learned a ton, including insights that'll streamline your own efforts the next time you set up shop at a trade show. In this post, I'll share six ways you can make the most of your next trade show using Autopilot's Dreamforce experience as a real-life example you can compare to your own efforts or use as inspiration.
1. Figure out how you can cut through the noise
Saying that Dreamforce is noisy is an understatement. Wired even calls it the massive carnival of geekery that eats San Francisco. The only way to cut through this noise at Dreamforce (and other trade shows) is to take advantage of the unique assets at your company's fingertips. What can you do to utilize your own product? Existing partnerships? Customer stories? In our case, we have a product that enables online/offline digital experiences, a solid customer story that outlines a core use case, and great partners like Twilio. We asked the same question that's helpful to ask in your own process: what can we do with our existing resources to stand out?
2. Offer a hot device or prize to draw people in
Just like how 30-50% of leads aren't ready to buy when they first inquire about your business online, the majority of conference attendees aren't ready to start a sales cycle on the expo floor. Sadly, love at first booth happens way less often than we'd like. So how do you get more people to your booth, and then convert those visitors into signups or leads? A hot new hardware device is a great way to do this (if you have the budget, and can promote it in advance - see below). For example, we gave away the world's most wearable camera, the Narrative Clip, to booth visitors who performed a high-value action in our app (syncing their Salesforce CRM), which in turn unlocked a "Golden Ticket", which directed them back to our booth to collect their valuable prize.

Try a similar strategy for your business and pull out all the stops to get leads to take that next step in the buying journey. Or if you're a big budget sponsor like Apptus, give away a Tesla to one lucky winner and make Elon Musk smile.
3. Create a fun and unusual expo experience
We designed a multi-channel journey to enhance the experience of our Dreamforce promotion. The journey you create for your own event will look different depending on the complexity of your offer but will most likely require a combination of automated emails, text messages, and dedicated landing pages for signups. For ours, contest winners were emailed the oh-so-valuable Golden Ticket to claim their Narrative clip after syncing their Salesforce CRM or sending a text through an Autopilot journey: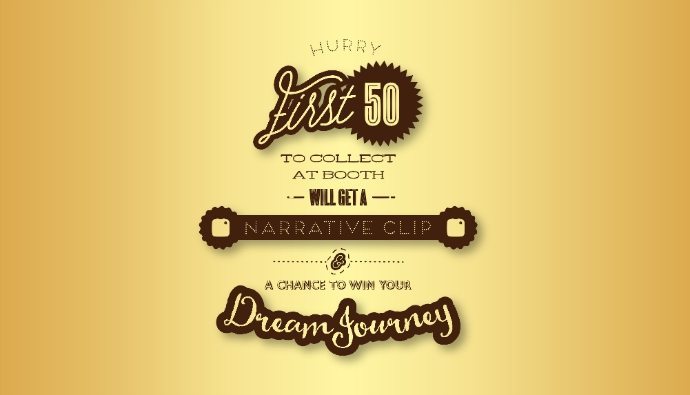 Free trial-ers who didn't sync or send a text were sent daily updates and behavior-based nudges to move them along in the process. We covered every possible user scenario to maximize signups and giveaways. Here's a sneak peek at the actual Dreamforce journey we used:

After creating your fun and unusual expo experience, put the whole thing on Autopilot and watch the magic happen.
4. Involve your partners early on
Working with partners multiplies the impact of your trade show efforts. The math is simple: your audience + your partner's audience = a wider reach. Since good partnerships mean all parties are successful, brainstorm early on how to make your conference co-marketing efforts a win-win for everyone involved. Maybe grab strategy beers to work out the details? Our good friends at Twilio (who power our text messages) co-sponsored our promotion, in exchange for being featured in our messaging. Here's what the handout looked like: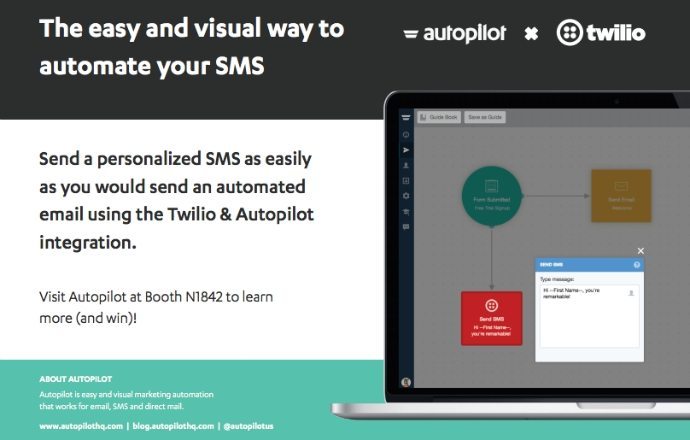 5. Promote strategically before the conference
You can spread the word about your offer before ever stepping foot off the plane. To spark your imagination, here's what we did for the Narrative promotion…
Focused around a theme that ties everything together, "enabling a remarkable customer journey through Narrative's eyes."
Wrote about their customer story on our blog
Created a printed one pager of their story
Redesigned our website to showcase the Narrative Clip
Mentioned the promotion in our newsletter
Shared the scoop on social media
And Narrative promoted the effort to their own customers
On the Twilio end, I presented our visual journey creator at their SF office, talked up the promotion at our recent boat party, and worked with their sales team to offer an incentive for whoever drove the most traffic to the Autopilot booth. All of the above happened before Dreamforce ever started. Take a minute and think through how you can adapt the above strategies to sound the trumpet for your own promotion.
6. Go all out for the whole week
After all the prep work, brain power, and finances invested into being a sponsor, the actual week arrives and the craziness begins. Expect tons of conversations with smart people and scattered business cards you'll have to organize the week after. You'll be spent, but it's worth it.
The results
Through our efforts, we brought in 295 new leads, 125 free trial signups, synced millions of contacts in real-time, and heard tons of positive feedback from customers, partners, and attendees. All huge wins for our first go at Dreamforce since launching the new Autopilot. You can see similar results - just remember to cut through the noise, plan a solid promotion, create the ideal journey, work with partners, get the word out before the conference, and go all out, all week. Setting up a booth at a trade show is a huge investment. But done well, your hard work into making the most of your sponsorship will pay dividends long into the future. Are you planning on going to Dreamforce 2016? If you've set up a booth at a trade show before, what insights do you have into standing out from the crowd? Let us know in the comments.